Best Ways to Make Money on Facebook
Whether you are marketing, selling, or advertising on Facebook you need to know how to make money on Facebook with your efforts.
Everybody uses Facebook. Okay, slight exaggeration. But with over two billion users worldwide, including more than 214 million in the United States alone, it is very, very widespread.
It's revolutionized news, culture, social interaction, and more. But it's not just a way for you to keep in touch with old high school friends, share your funny dog photos, or post videos from your beach vacation.
And the reality is that no matter what business or market you are in, chances are you can reach a segment of your audience on Facebook.
Facebook is also a powerful money-making platform. In fact, there are many ways you could potentially make money on Facebook. Let's take a look at the various ways you can use Facebook to market, advertise, and promote your business – or just make some money on the side.
1. The Facebook Marketplace
This is one of the simplest ways to make money on Facebook. Essentially, Facebook allows you to sell items on a special section of the site. Many towns, cities, and communities have set up buy/sell pages or you can simply search by geographic location, product name, or category. That way buyers can quickly see a wide range of choices in the surrounding area.
You can post used or new items to sell, everything from laptops to cell phones to cars to furniture. It's like Craigslist on steroids. Here are some tips when it comes to selling on the Facebook Marketplace:
Make sure to include clear pictures of what you're selling.
Provide details like model number, condition (be honest), etc.
Make sure you are selling it for the right price. Check what the same or similar items are selling for from other Marketplace sellers or on other sites like eBay or Craigslist.
Keep in mind there is some negotiation with potential buyers and many will try to low-ball you. If you don't think it's a fair price you're under no obligation to take the offer.
Chances are you're not going to create a full-time business buying or selling items on Facebook, but this is a quick way to make some extra cash. If you're already selling items on eBay or Craigslist this is another avenue for you to reach more people and expand your potential audience of buyers.
2. Facebook as a Traffic Driver
The great thing about Facebook is that its algorithms examine where you go online, what you click on the site, what videos you watch, etc. Then it brings more of those types of posts to your attention. Facebook is also, of course, a way to connect like-minded people, organizations, and companies.
You can take advantage of this to make money on Facebook. You'll do it not by selling to people directly on the platform as with the Marketplace but rather by compelling people to click on links on your Facebook page that takes them to your e-commerce site, landing page, or other website connected to your online business.
This is often referred to as two-step marketing. You're not trying to make a sale on Facebook (because people generally aren't there to buy), rather you're trying to get their attention and interest and get them off of Facebook clicking over to your website.
There you can sell them products or ask them to sign up to your email list (we'll cover that in-depth in the next section). This Facebook traffic is very qualified—these are people interested in your product offers. When you run ads on Facebook you can target by demographics, interests, and even people who have already expressed interest in your product, business, and brand so the traffic is very qualified.
To boost your traffic, you need to post regularly to your Facebook page. You can post sales pitches, product launches, and other related things to your business. Strong copy and compelling offers can bring in a lot of traffic. But you should also have useful content on your page that engages the prospect—that's what'll keep them coming back. You could post industry news, funny stories, etc. Photos and videos are very important these days—people want to watch them. And they don't have to be professionally produced.
If you have a blog, you should also post a link to every new post on your Facebook page. Same with any new YouTube videos or any other content you post elsewhere online. It's all about driving as much traffic as possible. You may even consider paying for ads just to have people see your free content and go back to your website as well. This way you can build a retargeting audience and run ads to them in the future.
The idea is to include content that gets people to like your Facebook page, so it shows up in their news feed and they send it to friends too.
3. Using Facebook to Generate Leads
This goes right along with #2 but we wanted to focus on this way to make money on Facebook because it's very effective, although it is more of a gradual way to earn income.
Basically, all the Facebook users out there are potential leads for your business. Not everybody, of course, just those folks who are interested in your products. The cool thing is that Facebook makes it easy to find these folks… and for them to find you. Again, you need a Facebook page for your business.
You'll include useful content to engage the users. And then you'll also include links to your website or a landing page asking them to sign up to your list to get a newsletter or updates, as well as special offers. It's important that you give them some incentive to sign up, like a free ebook or special report related to your niche.
With Facebook, you can also include an email opt-in form directly on your Facebook page.
You should also go out to fan pages or Facebook groups that are in the same industry or niche and start posting—this networking can bring more people to your page or directly to your website or landing page.
Once these people are on your email list you can continue to send them offers, as well as useful content like a newsletter. This is a great way to warm them up to the idea of buying from you. And you can offer them increasingly more expensive products over time as they buy the lower-cost products first and then are ready for higher ticket items.
Another strategy that is working well is to post links that simply go to content pieces or blog posts on your website. You're simply running ads to good quality content you've created. Once they arrive to your content, there you can offer a content upgrade by way of getting onto your email list. This is a less direct method but can make your ads more cost-effective.
4. Facebook Ads
The old saying goes, "You have to spend money to make money." And that's certainly the case with running paid ads onFacebook. You've seen these ads, they're the little banners on the right side of the page, as well as the sponsored posts that show up directly in the news feed.
Again, cookies that follow you around online, follow you to Facebook. So that ads that appear are something you might be interested in and you're more likely to click and even buy the product. When you're an advertiser that's great news because your ads are getting in front of the eyeballs of the right people.
One note of caution. Like any type of online advertising, Facebook ads can be pricey and it's quite easy to spend a lot of money with no return if you don't know what you're doing.
So before you use this method to make money on Facebook, you should have all your systems in place, you should have been in business for a while, and you should have some cash in reserve because there will be some trial and error before you find ad copy and an offer that works. You should also be having good tracking in place so you know exactly which ads are working and which ones are not; that way you're not wasting money on ads that don't work and can pump more money into the ads that are working.
A related method to this is boosting posts. When you find a post on Facebook that is working well and engaging your prospects, you can "boost" it by paying some extra money. Boosting puts it in front of more people.
Boosting posts is the simplest way to do a Facebook ad; once you find a boosted post that works well you should use Facebook's more advanced ad options to promote those posts that do well.
5. Bringing Customers to Your Bricks-and-Mortar Business
Customers expect every business they interact with to have a Facebook page. This includes businesses with physical locations like shops, retail stores, restaurants, and more. So it's important that you have a Facebook page that clearly shows your location, what your place is all about, what products or services you offer, etc.
You can also include news of sales and discount offers or special events. For example, you can post about the weekly happy hour at your restaurant. And if somebody posts a question or comment – be sure to respond in a timely manner. Get a conversation going with your fans.
The goal here is to have people like your page so your new posts are in their newsfeed. Then when they see a special offer they like, they come into your physical location. You want to keep your place of the business top of mind with your prospects so they come to visit you.
Admittedly this strategy only really works if you have a physical business, but it's worth mentioning here. Also, you should encourage all of your customers to like your page and have them follow you on Facebook for news, specials, coupons, and updates. A simple sign at the register encouraging people to follow you on Facebook can work or you may even incentivize people to follow you by offering something.
Another important note: you can only run paid ads to a business page; not your personal profile.
6. Sell Affiliate Products
Affiliate marketing is one of the quickest ways to get started doing business online. And the cool thing is that Facebook is a great way to get into this type of venture. It makes it so easy.
The basic model works like this:
You sign up for an affiliate program. There are dozens out there but a great place to start is ClickBank, CJ Affiliate, and Amazon.
You promote products from those sites on a Facebook page centered all-around a specific hot niche.
Whenever somebody clicks on the link and buys the product, you get a commission – generally from 5 percent to 25 percent.
As with any strategy to make money on Facebook, it's important to post regularly and engages with your audience. That creates trust and makes it more likely people will buy. Also, be sure to track those numbers so you know which campaigns are working and which ones are not.
A Variety of Ways to Make Money on Facebook–Choose One
There are many ways to profit from spending time and effort on Facebook. It's one of the most versatile platforms for making money online. Try one or several of these methods to see which one works best for you. Best of luck.
Earn Money by Going Live on Facebook
Facebook recently announced on its Facebook Business page that you can now earn money by simply going live on Facebook. The new feature on Facebook Live, called Ad Breaks, lets you take short breaks from your live video to run 10- or 15-second ads.
To be eligible for Ad Breaks, you must have at least 2,000 followers and your video must have an audience comprised of 300 people. Ad breaks can only appear on your live broadcast if you have been recording for at least four minutes. After your first ad break, you can have additional breaks every five minutes.
After you've been broadcasting live for four minutes, Facebook will notify you that you're eligible for an ad break.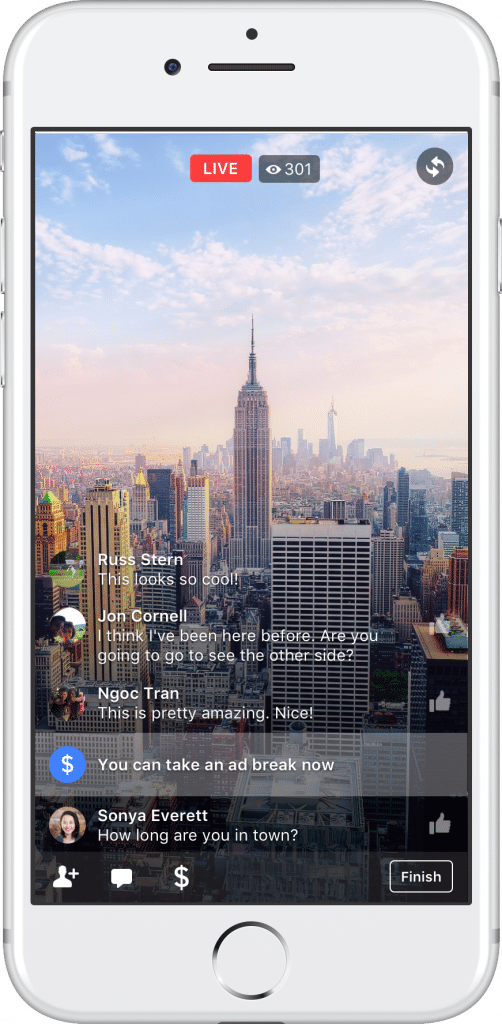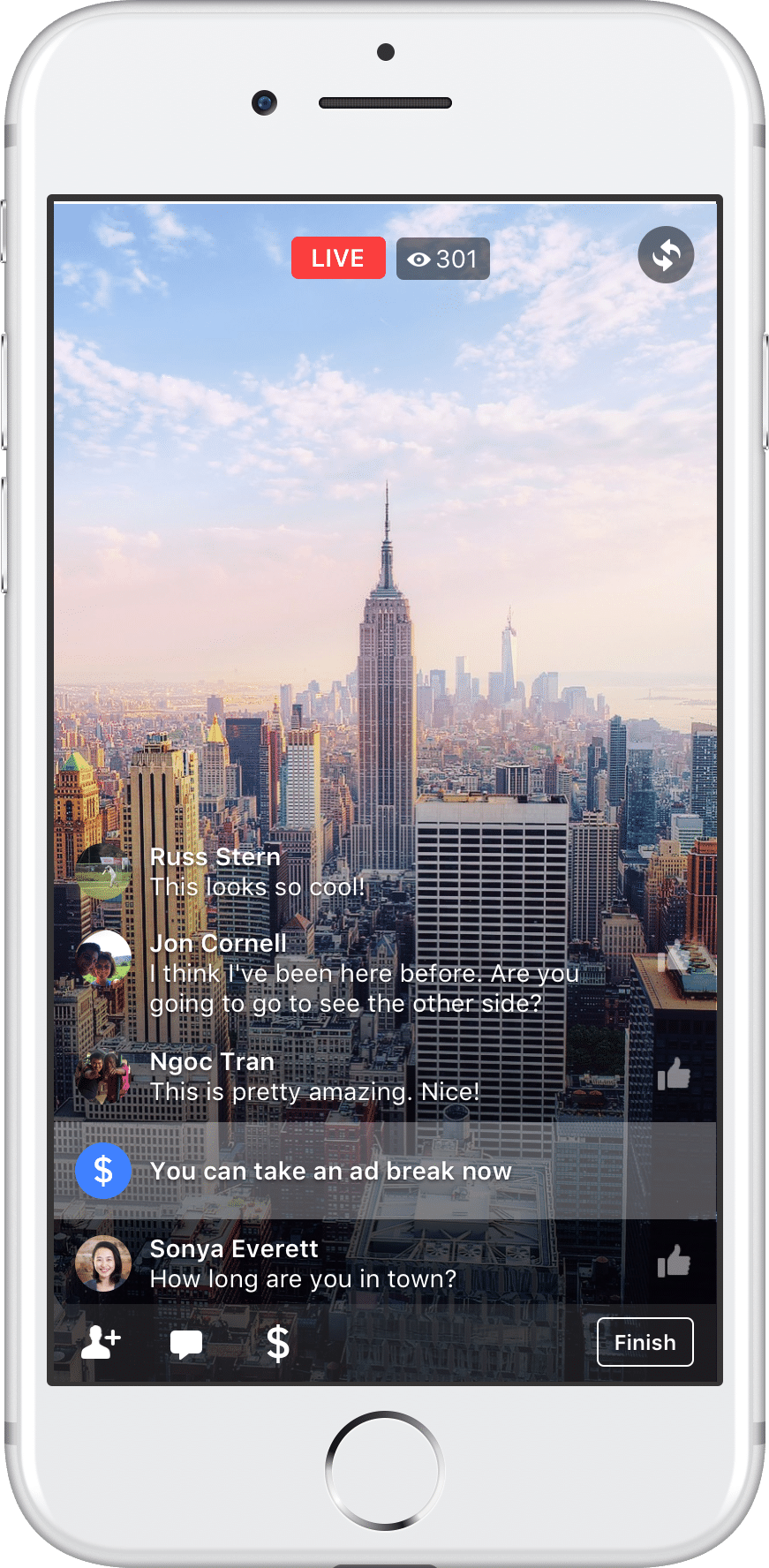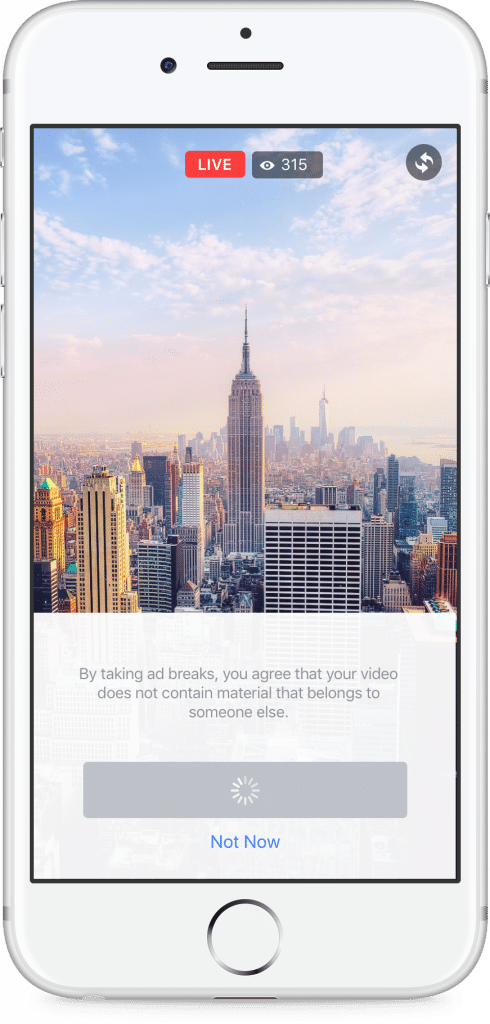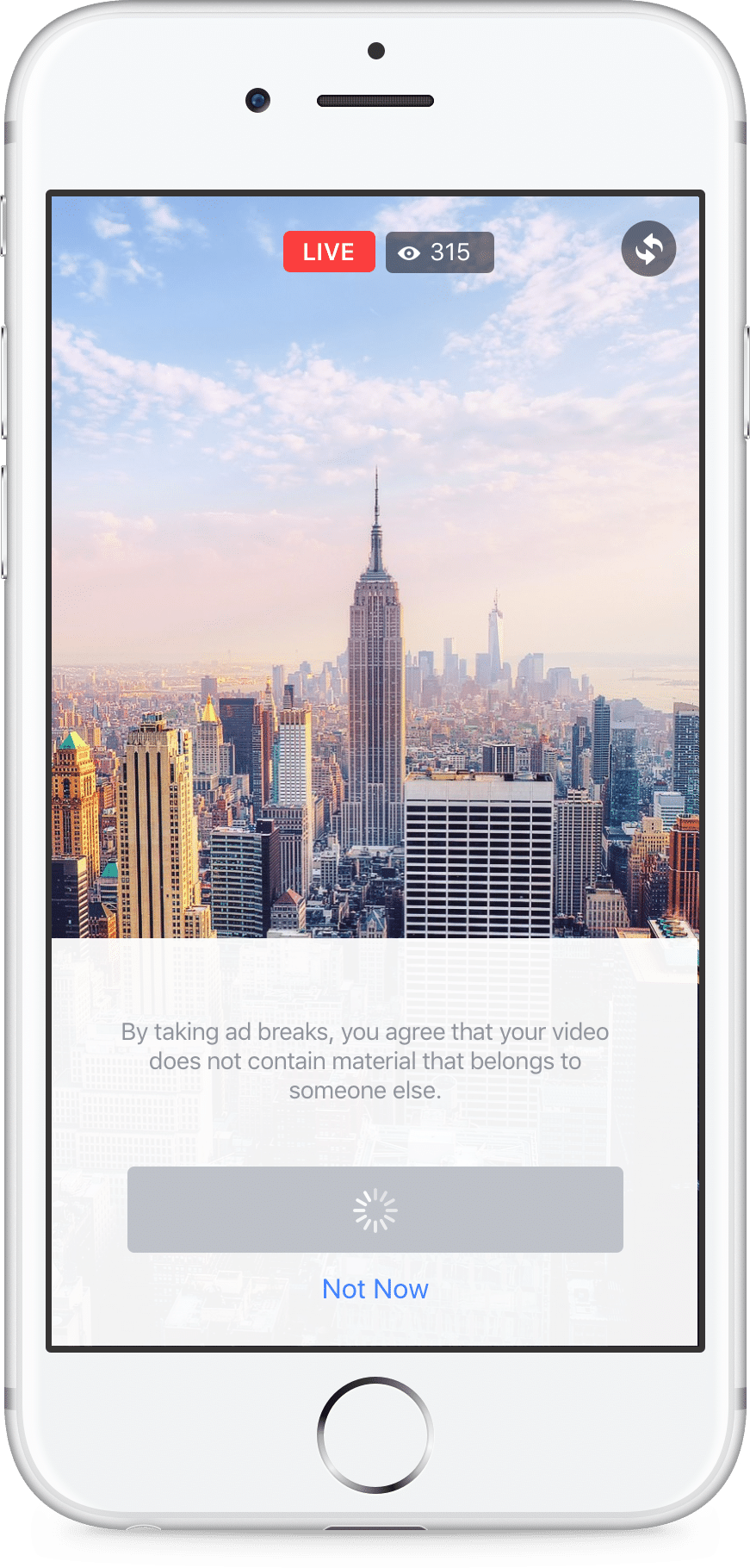 When you're ready to have an ad break, you must let your viewers know that you're taking an ad break. Otherwise, you will leave them alarmed and confused. (This is a new feature, after all, a feature that many are still unaware of.) When a 10- or-15-second ad appears, your camera will turn off. During this time, viewers will see a counter in the corner of their screen notifying them of your return. After the ad ends, your viewers can resume watching your broadcast.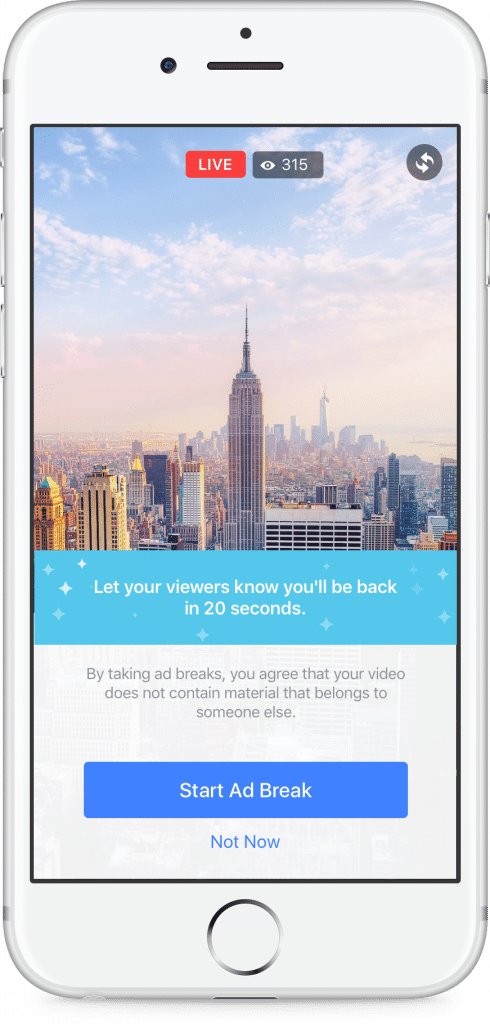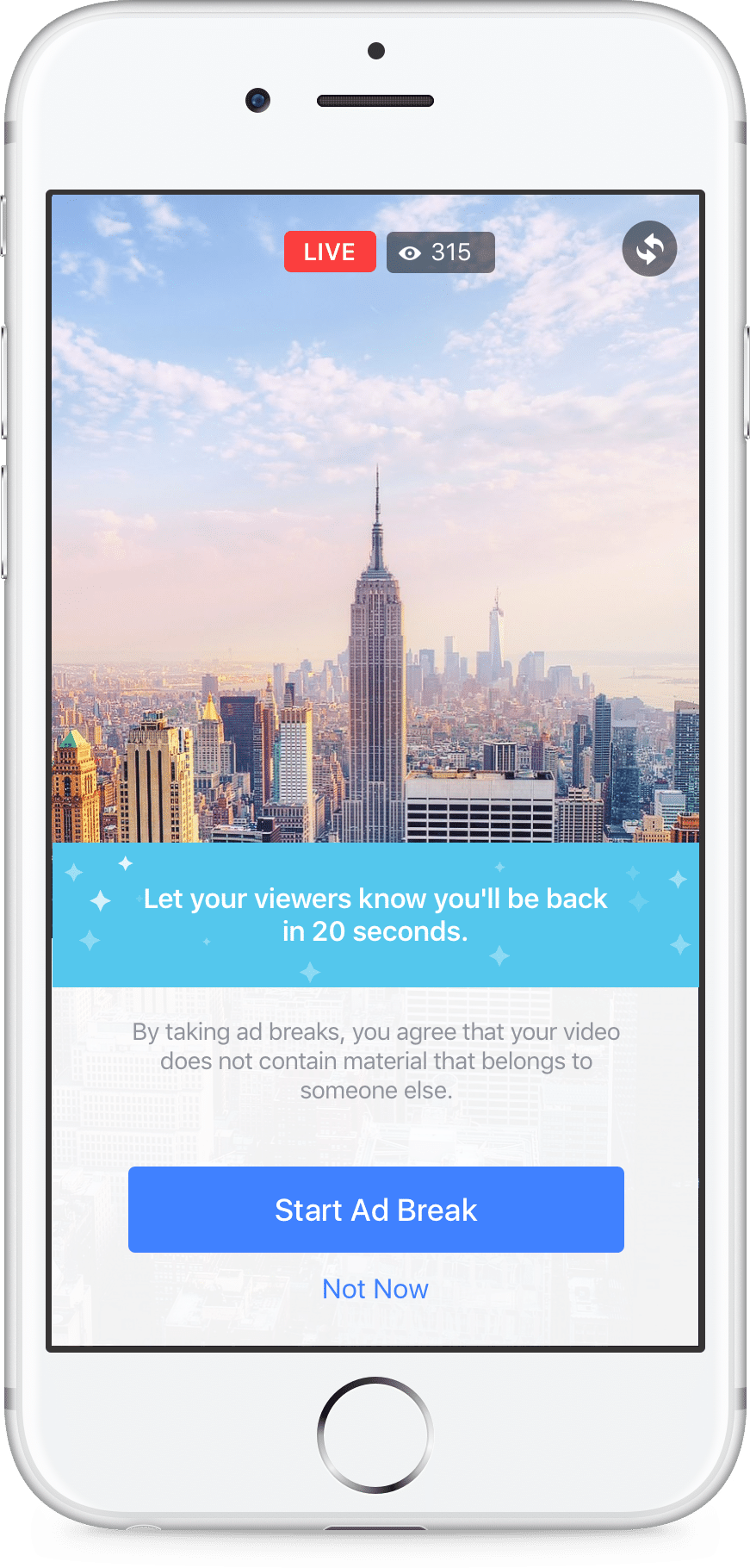 Setting Up Ad Breaks
After you've broadcasted a live video that has met the requirements for Ad Breaks, you will receive a notification from Facebook saying you're eligible to set up ad breaks.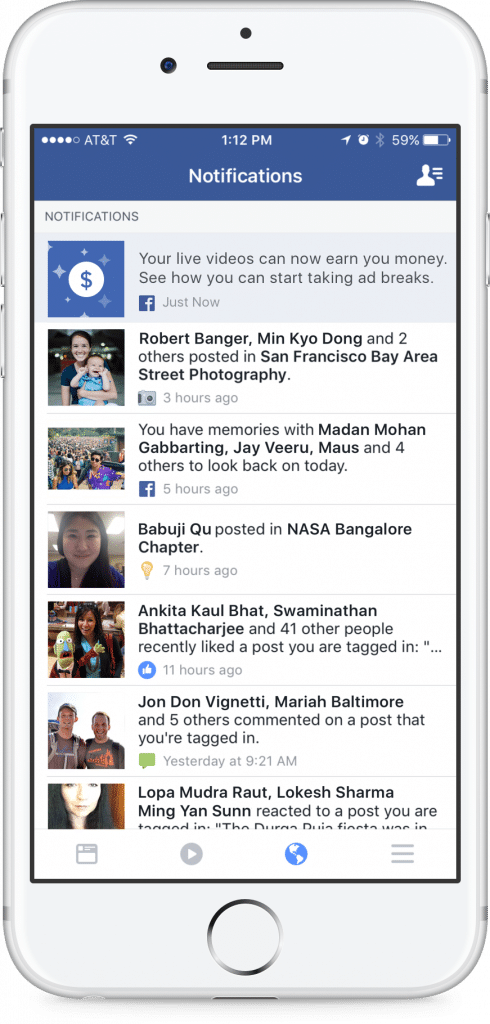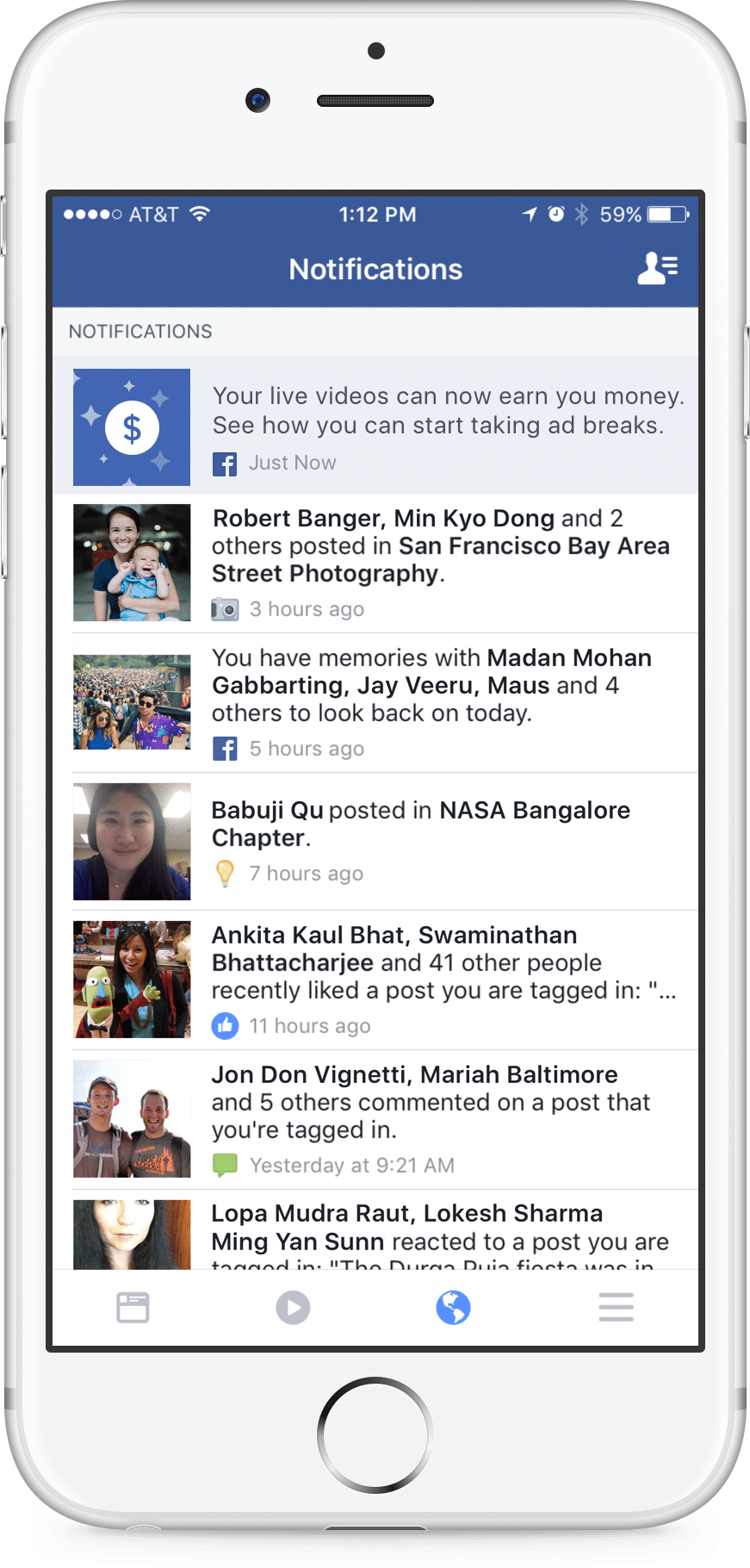 Facebook will also notify you of your eligibility the next time you go live. Simply tap the white dollar sign located on the bottom left corner of your screen to get started with Ad Breaks.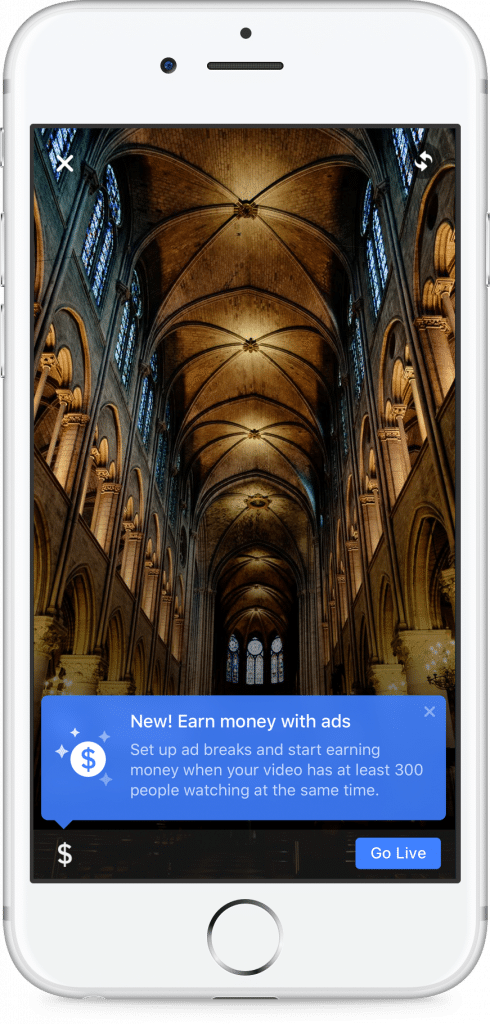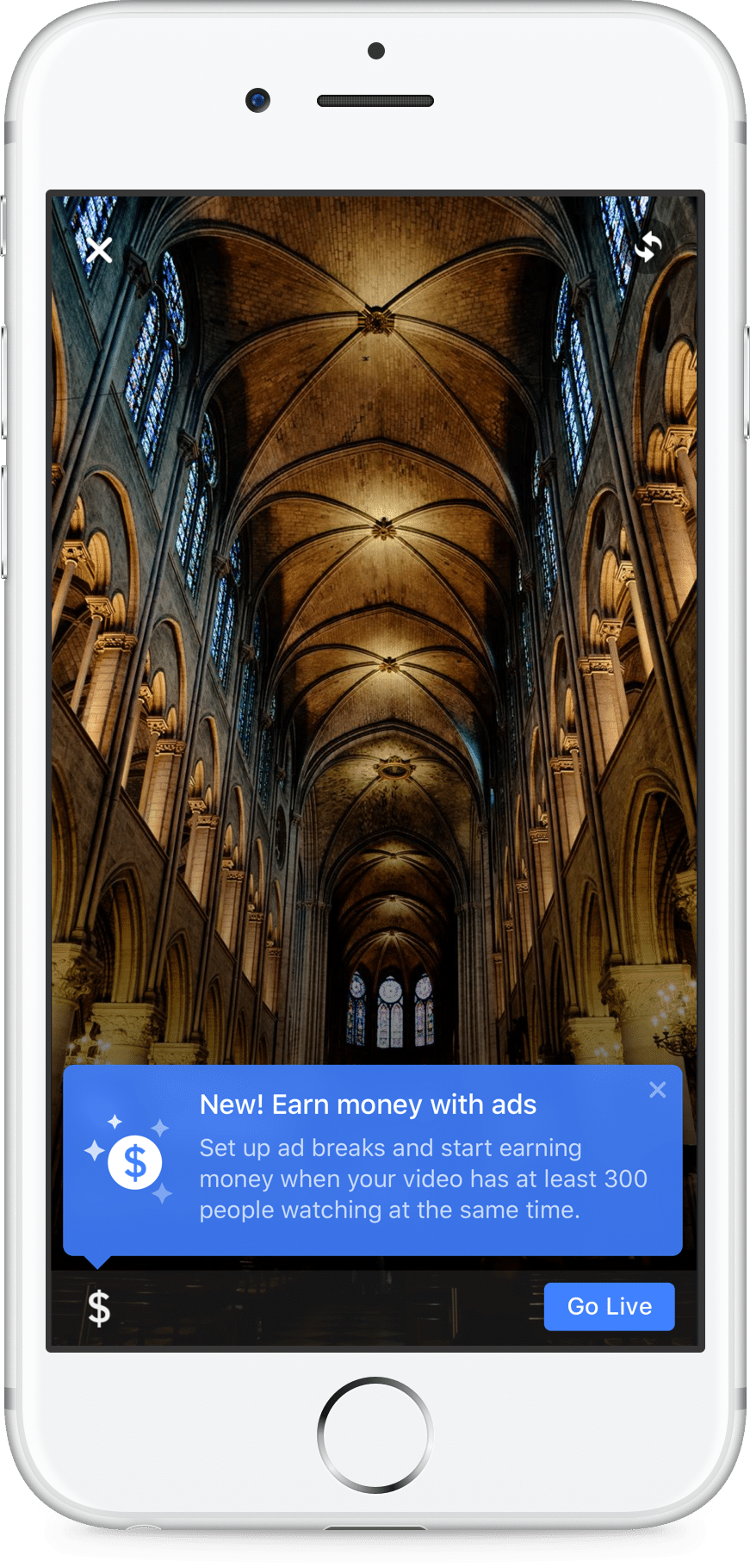 Tapping on either the notification from your notifications tab or the dollar sign on your live screen will lead you to a welcome page.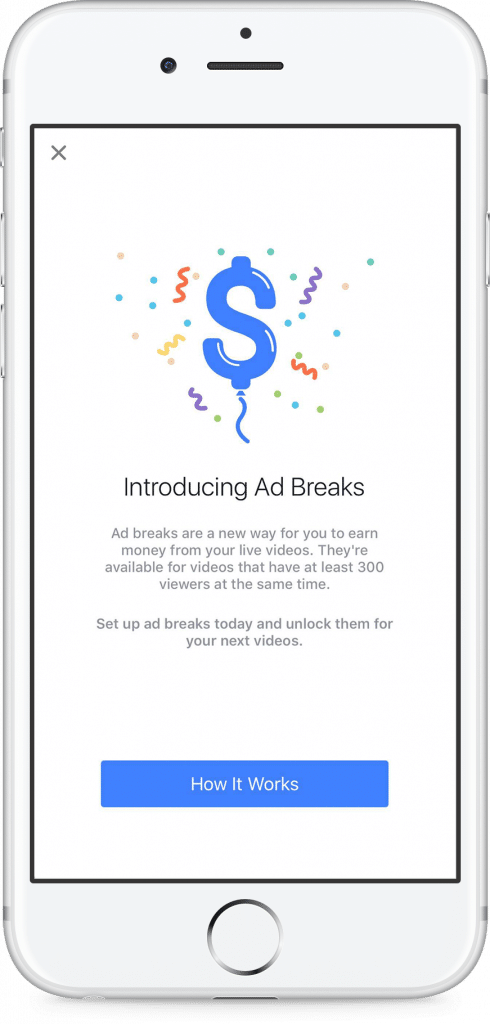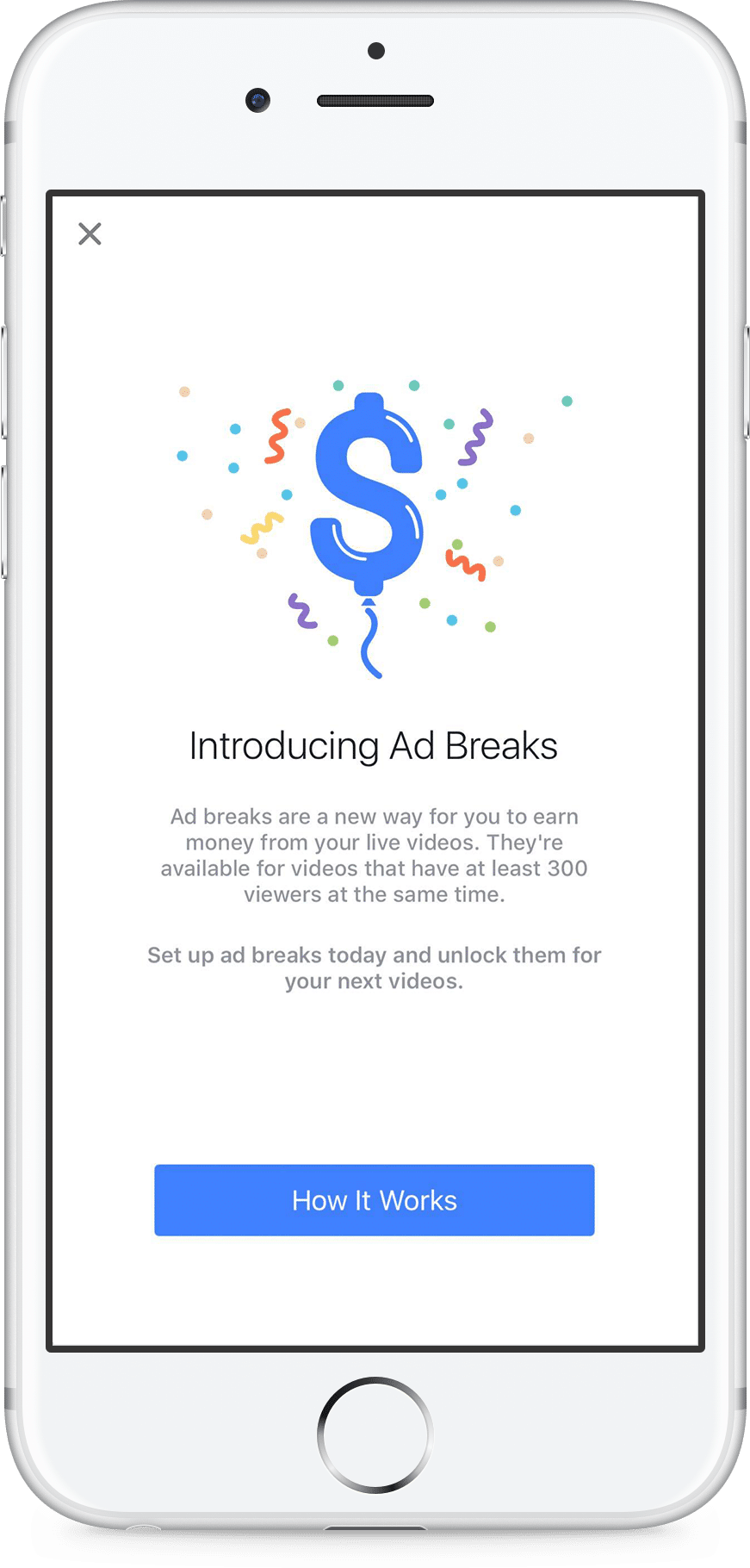 Setting Up a Payment Account
To include ad breaks into your live videos, you must first set up a payment account. If you don't do this step, Facebook can't pay you. To set up your payment account, you must:
Fill out a form and provide your basic information ( i.e. full name, phone number, etc.)
Choose either a Paypal or bank account
Provide information for tax purposes
The third step is required because the income you earn from the ad breaks may be taxable.
After you've completed the steps, you're ready to get paid for ad breaks.
Getting Paid
You get paid after you've earned $100's worth of ad payments. Payments, which will be deposited to your chosen payment account, are given each month.
For frequently asked questions about Ad Breaks, visit Facebook's Business page at facebook.com/business. For the latest update on Facebook Live, check out our piece on Facebook testing infomercial style Live Videos.
Will you use Ad Breaks during your live videos? Comment your answer below or share this story with friends.
How to Monetize Your Facebook Video With Facebook Ad Breaks
Do you create video content for Facebook? Wondering how to allow others to advertise during your videos?
In this article, you'll learn how to monetize your Facebook video content with Facebook ad breaks.
What Are Facebook Ad Breaks?
Facebook ad breaks allow you to monetize your Facebook video content. Ad breaks are short ads (in the form of pre-roll, mid-roll, and image ads) inserted at natural breaks in your eligible video content. The feature has been around for a little over a year and users were slow to adopt it at first. But now, quite a few Facebook pages are earning 4–5 figures in revenue from ad breaks.



To check your page's eligibility for ad breaks, go to the Join Ad Breaks page.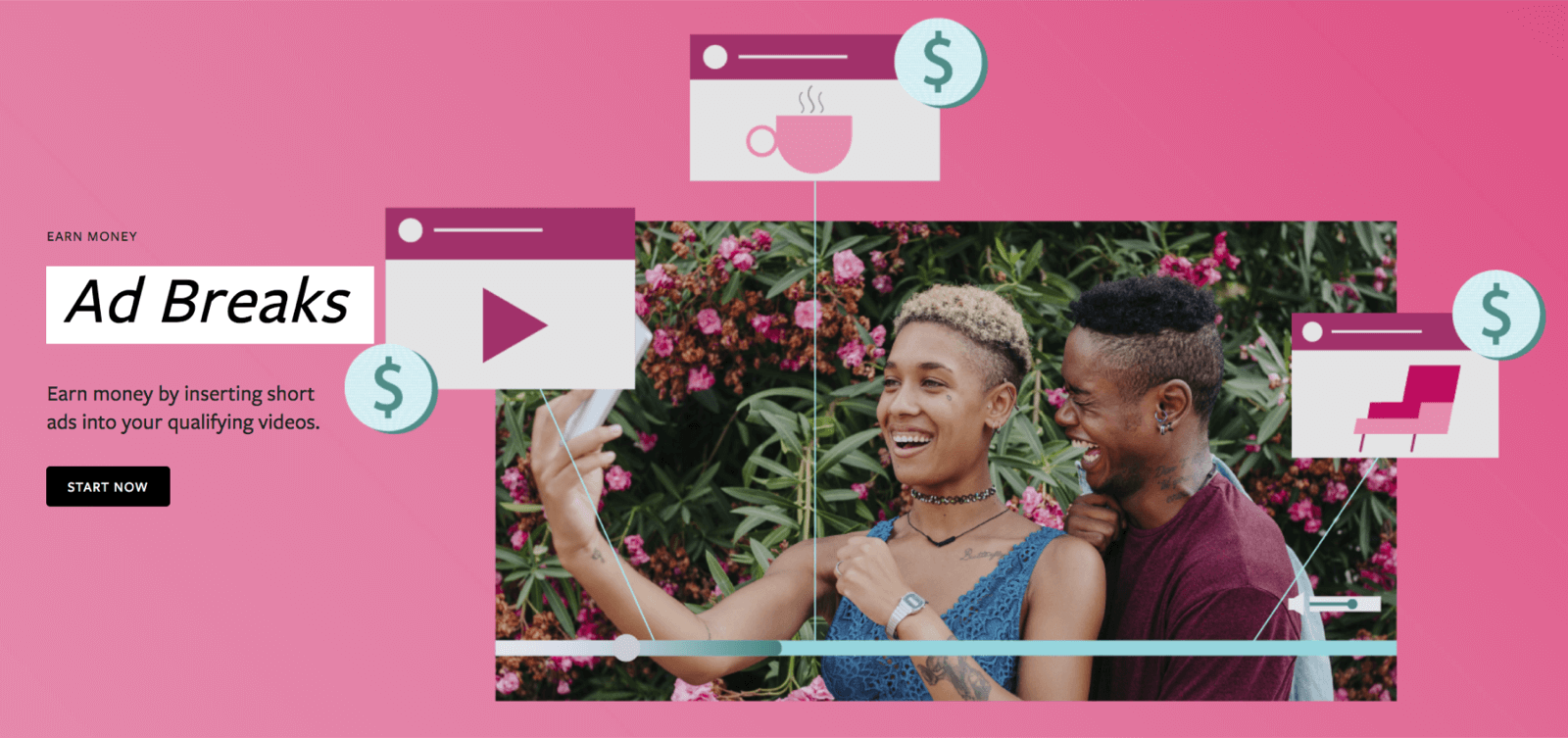 If your page is eligible, you'll see a message to this effect right away.



If you see a message that your page isn't eligible for Facebook ad breaks yet, this means you need to meet some additional requirements to qualify. Here are the requirements for Facebook monetization:
Your page must comply with Facebook's Partner Monetization Policies that are centered around community standards, copyright enforcement, authenticity, and engagement.
You must reside in one of the eligible countries and post content in one of the eligible languages. Don't get discouraged if your country isn't on the list yet; the list of eligible countries is growing fairly fast. Note: this requirement may have been removed from some pages in the last month.
You must publish content on your business page (not your personal profile). Facebook's public documentation specifies that a page must have at least 10,000 fans. Note: Facebook appears to be testing a 1,000 fan minimum in some regions.
Your page must have reached one of these milestones in the past 60 days: 15,000 engagements; 180,000 minutes viewed across all of your videos; or 30,000 1-minute views on 3-minute+ videos.
You must be at least 18 years old.
The eligibility check will highlight specific areas to focus on while working toward monetization. For example, you may need to work on the strategy to increase video views. Scroll to the bottom of this article for tips to help you reach eligibility for Facebook ad breaks.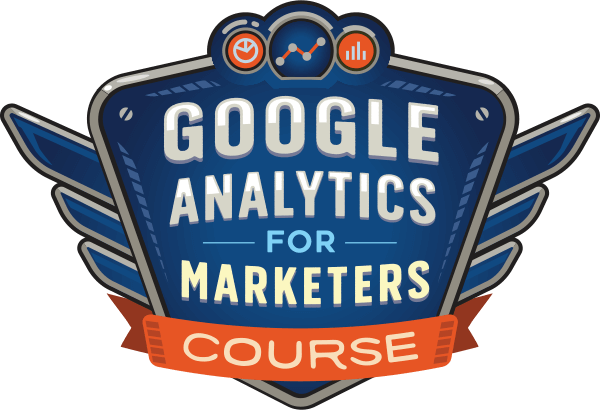 Learn How to Measure All Your Marketing With Certainty. Become a Better Marketer!
MASTER ANALYTICSSALE ENDS TUESDAY!
LEARN MORE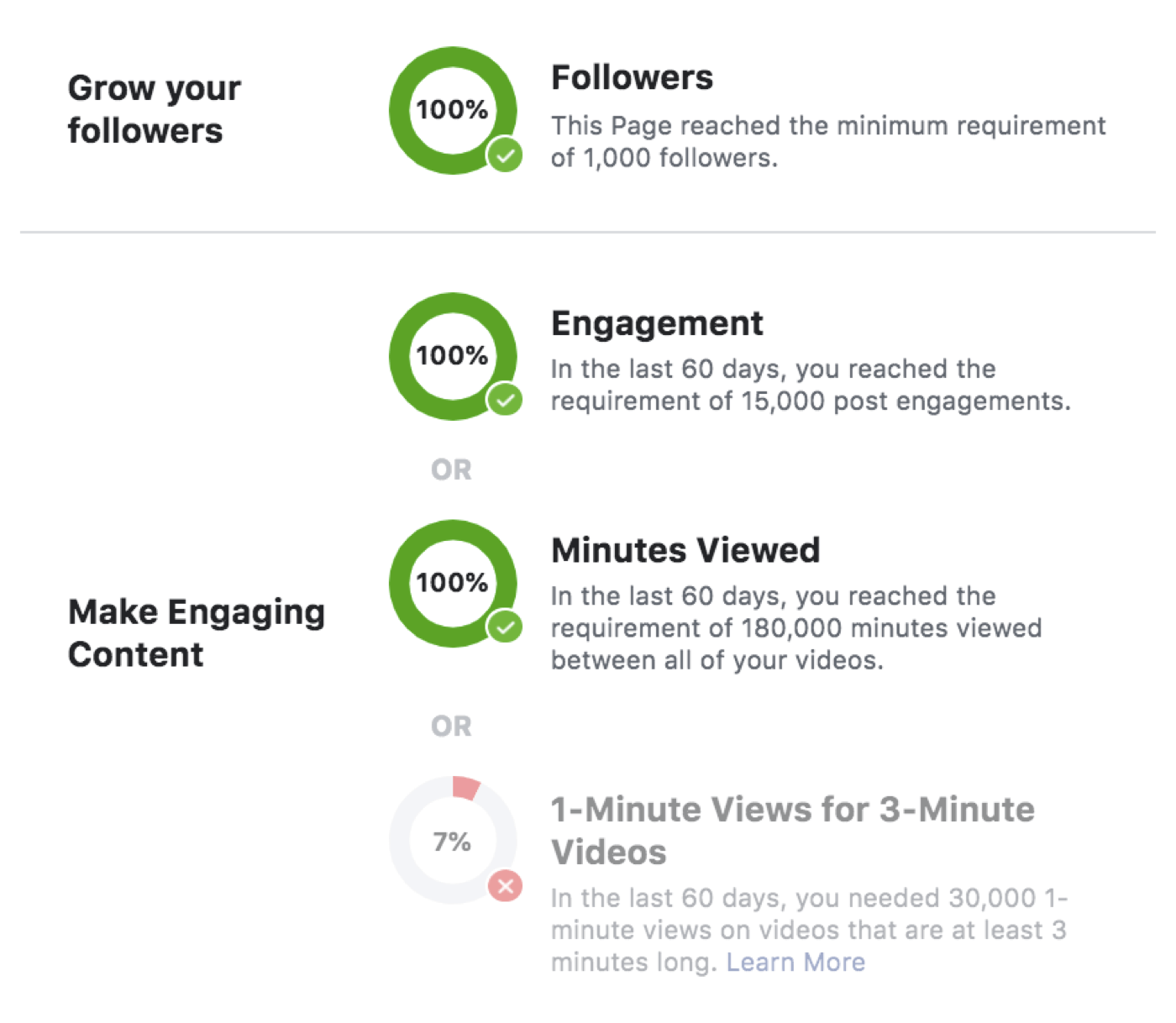 If your page is eligible for Facebook ad breaks, here's how to get started monetizing videos that are at least 3 minutes long.
#1: Submit Your Facebook Page for Facebook Ad Breaks Approval
You can set up and easily manage Facebook ad breaks via Facebook Creator Studio. Start by choosing the eligible page you want to monetize. Then click the Monetization tab in the left navigation and carefully review and accept the monetization terms and conditions.



Next, choose your forms of receiving earnings and select a payment account. You can enable the automatic placement of ads in your videos published in the last 30 days.
Once you've finalized your page setup, the approval process is typically quite fast.
#2: Control Where Facebook Ad Breaks Appear in Your Video Content
Facebook lets you choose the placement of ad breaks at the page or video level. You can make this selection when setting up monetization or later in monetization settings. These are your options:
Allow Facebook to automatically insert ads where there's a natural 1- to 2-second pause in your content (recommended).
Manually control where Facebook inserts ad breaks. The best practice for this option is to check the box that allows Facebook to adjust the ad breakpoint by 10 seconds. This will optimize your viewers' experience.
#3: Create Facebook Videos Optimized for Facebook Ad Breaks Monetization
If you opted for the page-level monetization option, every video you publish on Facebook will automatically go through the content review process. This review starts the moment your video is published. You may even earn limited revenue from it while the video is still in the review phase.
Facebook reviews best-performing (or higher "velocity") videos first and determines performance by the number of views in the first minutes after the video is published. A video that gets 25 views in the first 10 minutes is considered high velocity. This video will get a higher priority for review compared to a video that takes 30 minutes to get the same 25 views.
The review process can take up to 48 hours but typically it's much faster. The status of each video is displayed on the Ad Breaks tab.



After the video has been reviewed, the status will change to one of the icons shown below. If your video is flagged as "Limited/No Monetization," you'll have an opportunity for a one-time appeal.



Keep in mind that not all 3-minute videos will qualify for monetization. Carefully review Facebook's Content Monetization Policies and incorporate them into your video strategy.
Here are some tips to help:
Establish a Theme and Align Content With Your Niche
Start with a clear definition of your niche and audience persona, and think about ways to affect people, evoke feelings, and solve problems with your video content.
Once you've developed a theme and style, create a storyboard. Be sure to include the hook in the first 3–5 minutes of the video. Also incorporate short, entertaining branded/personal intros in each of your videos.
Always include a call to action but be careful of engagement bait (incentivizing people to click, share, or like your post). For the video thumbnails, minimize the use of text if you plan to boost your content.
Avoid videos that have a static image, a slide with a text overlay, or looping clips. Create videos that capture motion, screen shares, or live interaction. All you need to get started creating monetizable Facebook videos is a smartphone, a simple tripod, and a basic video editing tool.
Create Original Facebook Videos
Protecting creator copyright is one of Facebook's top priorities. The platform doesn't allow monetization on shared videos or videos repurposed from other sources (e.g., downloaded from YouTube). Create original content that's aligned with your audience and their core issues. Videos that spark a conversation with your audience via comments and interactions will get a higher organic ranking.
Note that if you purchase a video or use videos covered by Creative Commons license, you run a risk of violating Facebook's Content Monetization Policies. You can collaborate with the creator of a viral video on YouTube as long as you share credit and monetization payout. Facebook explicitly calls out many popular video formats as ineligible for monetization.
Put Google Analytics to Work for Your Business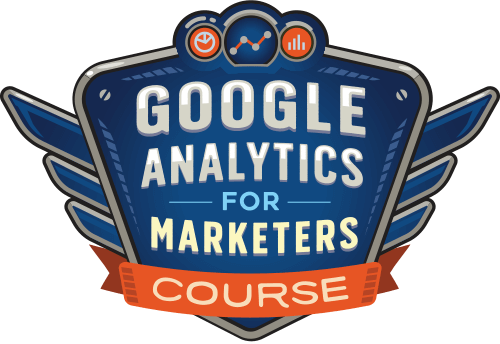 Ever thought, "there's got to be a better way" when it comes to tracking your marketing activities? Are you forced to make decisions based on limited data? With the right training, you can use Google Analytics to measure all of your marketing efforts with certainty. You'll stop the leaks in your ad spending, justify your marketing spend, gain the confidence you need to make better marketing decisions, and know what's working at every step of the customer journey. Let the world's leading analytics pro show you the way. Check out our new Google Analytics for Marketers course from your friends at Social Media Examiner.
#4: Review Your Facebook Ad Breaks Revenue
To view your video stats in Facebook Creator Studio, click the Monetization tab and then Insights. You may notice that Facebook views are somewhat higher than YouTube views; this is due to Facebook's built-in viral functionality. If you produce engaging video content that users want to share, you'll get credit for watched minutes.
The Insights tab will highlight your top-earning videos, percentage of 3-minute+ videos, and more.



You can also see a breakdown of your 1-minute video views and estimated earnings at the individual video level. To do this, go to Monetization > Ad Breaks.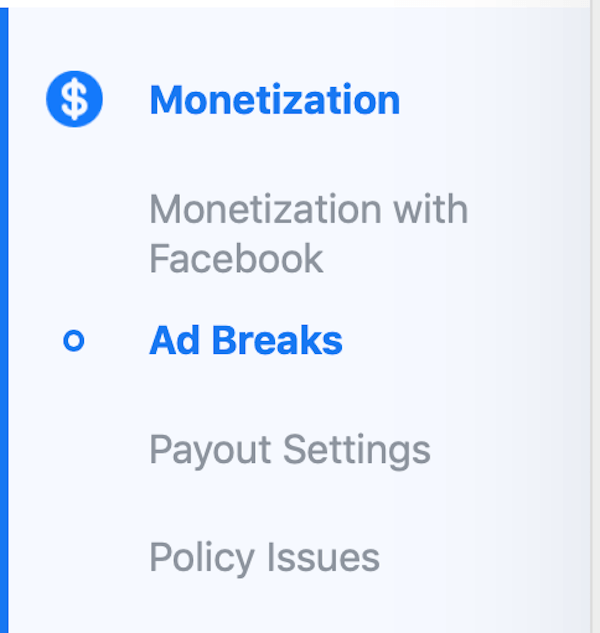 Click on the green dollar sign (which appears next to each video) to see the next level of details, such as ad impressions and CPM.



Your payout depends on two factors:
Ad CPM (cost per thousand)
Ad impressions
While ad impressions are driven by 1-minute views, they're not the same. One-minute views coming from ineligible countries won't get monetized even if your video is approved for monetization; therefore, these aren't included in your ad impressions.
The geographic location of 1-minute views also determines the CPM. It's typically higher if viewers are located in the U.S. ($2–$3) and lower if they're in southeast Asia ($1 or less).
Use this formula to determine how much you'll get paid:
(Ad Impressions x Ad CPM) / 1,000 = $ Earnings
For instance, if you have 3,500 ad impressions and an ad CPM of $2.50, your earnings are $8.75.
(3,500 x $2.50) / 1,000 = $8.75
Facebook will pay you monthly (on or around the 18th of the month). You need to make at least $100 in ad breaks revenue to receive the payout.
Tips to Help Your Facebook Page Meet Eligibility for Facebook Ad Breaks
While getting to the Facebook fan and video views requirements for monetization may sound daunting, here are some tactics to help you meet these eligibility requirements.
How to Grow Your Facebook Page Fan Likes
Consistently sharing high-quality content and promoting your page via other channels will help you grow your Facebook following. However, organic growth can be comparatively slow. Try one of these two strategies to accelerate growth.
Launch a Page Likes Campaign
To create a Facebook Page Likes campaign, select Engagement as your campaign objective, and then click Page Likes.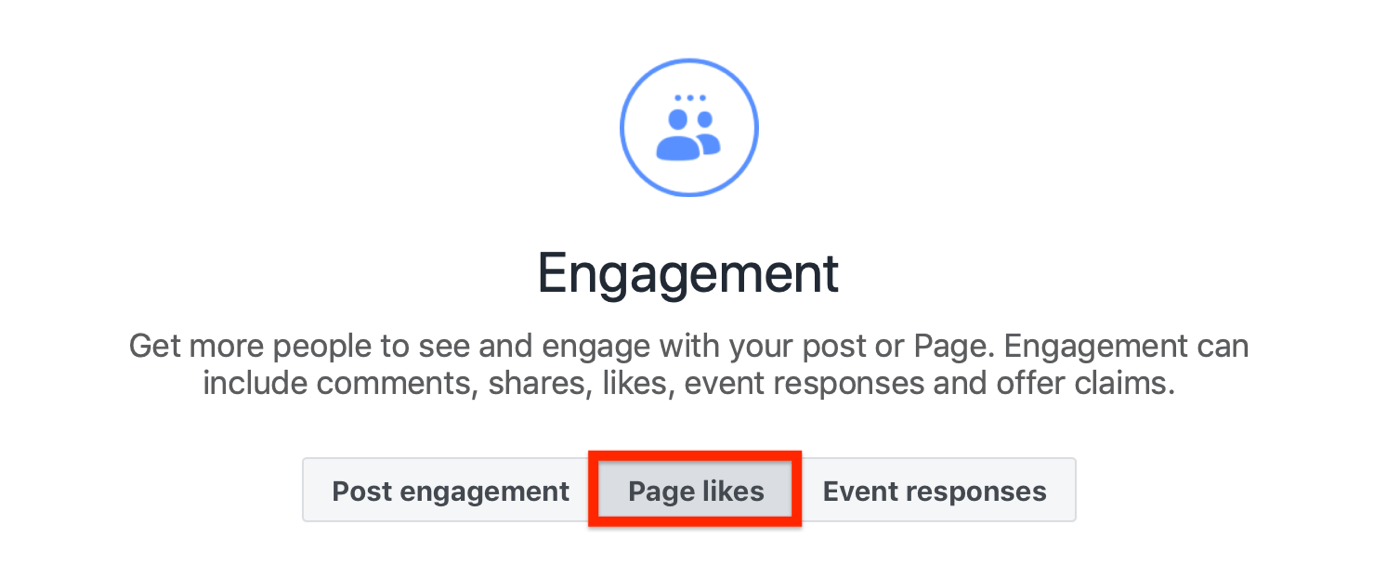 For targeting, choose interests that describe your niche and select locations where you'd like to attract fans.
Pro Tip: The location of fans and views is directly linked to your ad CPM. If you want to have a higher CPM, concentrate your targeting on the U.S., Canada, western Europe, and similar markets.
Invite Engaged Users to Like Your Page
You may have noticed that not all of the people who are engaging with your posts are connected to your page. This often will happen if you're boosting your posts.
To invite these engaged users to like your page, open one of your posts and hover over engagements (e.g., like, love reactions) located underneath People Reached. A separate window will open with the details of people who interacted with your post.



You'll see a grayed-out Liked or an active Invite button next to each name. Clicking on Invite will send a Like Page invitation to the prospective page fan.
Pro Tip: Don't stop when you reach the fan threshold requirement for monetization. Continue to regularly invite your engaged fans. The more fans your page gets, the higher the payout.
How to Reach 30K 1-Minute Views or the Post Engagement Requirement
Your next step is to reach the video views or engagement requirement. As you get more fans for your Facebook page, your video views, including 1-minute video views, will grow.
Until recently, the official requirement for Facebook monetization was 30,000 1-minute video views. Now some users may see several alternative options in Creator Studio.
You still need to meet 1-minute view requirements for ad breaks, which is a great option if you have short engaging video around 3–4 minutes in length. Alternatively, you may be able to qualify for monetization if you have a total of 180,000 views across all of your videos. This is the perfect option if you have longer, in-depth videos or if your videos are shorter than 3 minutes.
But if you want to accelerate the growth of video views, consider putting ad spend behind your top-performing videos.
Boost Your Best-Performing Videos
Boosting a video is a fairly straightforward option. Facebook will even prompt you to boost your best-performing posts. This option is also perfect if you're trying to meet the post engagement requirements.
Click on the Boost Post button to the right of People Reached and Engagements. Then select your target audience (similar audience to the Page Likes campaign).



Boosting a post will increase your engagement and help you grow your 1-minute video views. The limitation of this tactic, though, is that Facebook will optimize your campaign based on engagements (clicks, likes, comments) in addition to video views.
Run a Video Views Campaign
A Video Views campaign is ideal for meeting your video views requirements. When running this type of campaign, you can choose ThruPlay optimization. Facebook will then optimize your ad based on people who are likely to watch at least 15 seconds of your video.
To do this, choose Video Views as your campaign objective. Under Budget & Schedule, select ThruPlay for Optimization for Ad Delivery (which is the default setting).



For ad placements, choose Edit Placements and uncheck Instagram, Messenger, and Audience Network. While your costs may increase a little, in the end you'll gain more 1-minute video views on Facebook.
For the ad creative, select Use Existing Post and paste the Post ID (found in the URL of the Facebook post).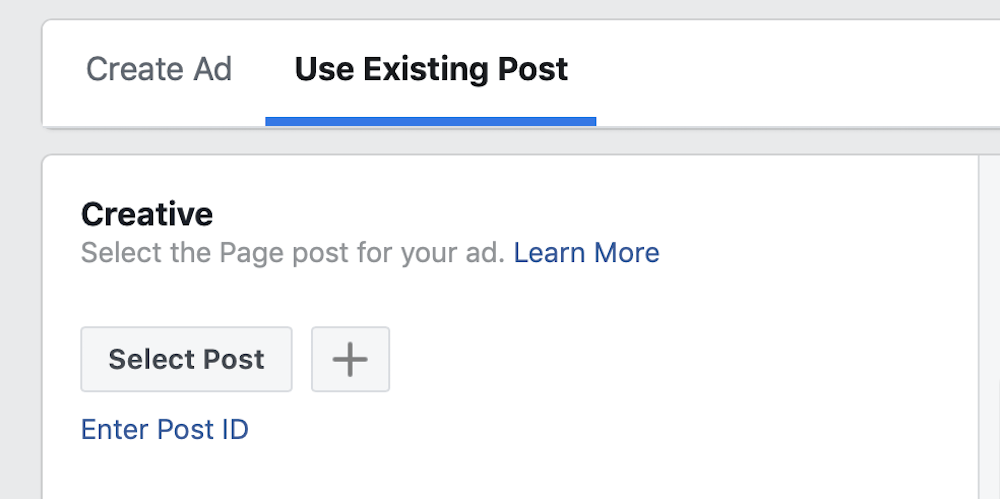 Conclusion
Facebook ad monetization is a much-awaited opportunity for video creators. With a bit of focused effort, you can get your page to qualify for Facebook ad breaks so you can start earning supplemental income from your video content.