YouTube, the Google-owned video network, boasts over a billion users — almost one-third of all people on the Internet — and every day people watch hundreds of millions of hours on YouTube and generate billions of views. On mobile alone, YouTube reaches more 18-34 and 18-49 year-olds than any cable network in the U.S.
What's amazing, though, is that only 9% of small businesses in the U.S. are actively using YouTube, and my hunch is that figure would be pretty accurate worldwide, too.
So why aren't businesses investing in YouTube as part of our social media strategy?
In short, because the video is harder to produce than a blog post or an image.
Or at least that's the perception many of us have.
In reality, though, video is becoming much easier and cheaper to create. This means there's a huge opportunity for your business on YouTube.
If you've been debating getting started on YouTube or have maybe experimented a little and not yet found your feet, this post is for you. Throughout this post we'll dive into:
The basics of getting your account set up
How to create a YouTube channel
How to create the perfect channel art
Top tips for optimizing your channel.
Ready to start? Let's go.
---
How to create a YouTube channel
Creating a YouTube channel using your Google account
If you have a Google account, you can watch, share, and comment on YouTube content. However, Google accounts don't automatically create YouTube channels. Getting a new channel set up is a simple and quick process, though.
1. Go to YouTube and sign in
Head over to YouTube.com and click 'sign in' in the top right corner of the page:

Then log in using the Google account you'd like your channel to be associated with:
2. Head over to your YouTube settings
In the top right corner of the screen, click on your profile icon and then click "Create a channel."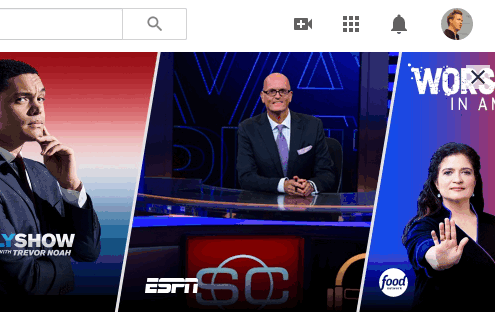 3. Create your channel
Next, you'll have the option to create a personal channel or create a channel using a business or other name. For this example, we'll choose the "Use custom name" option, which is recommended for small businesses and brands: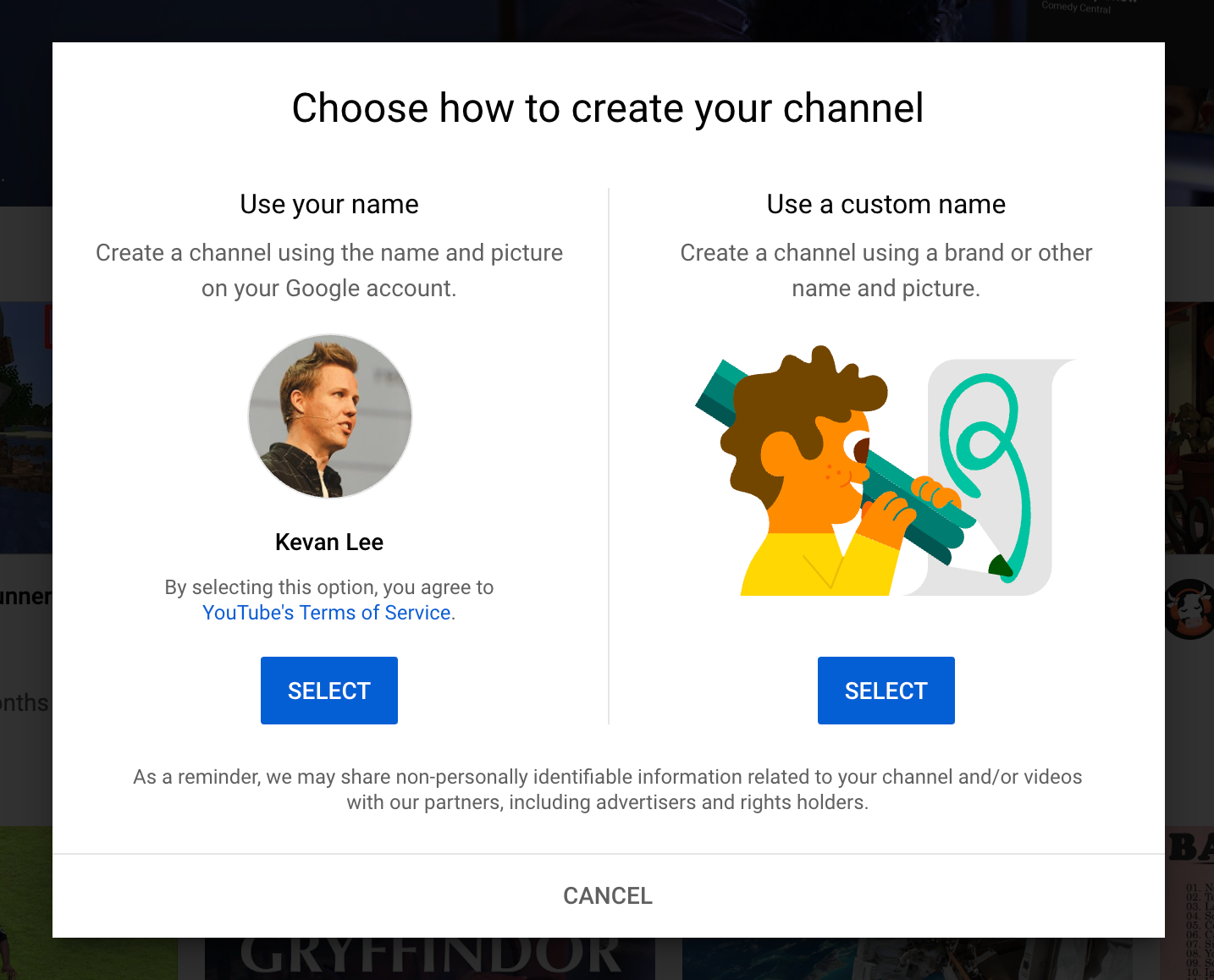 Next, you'll name your channel.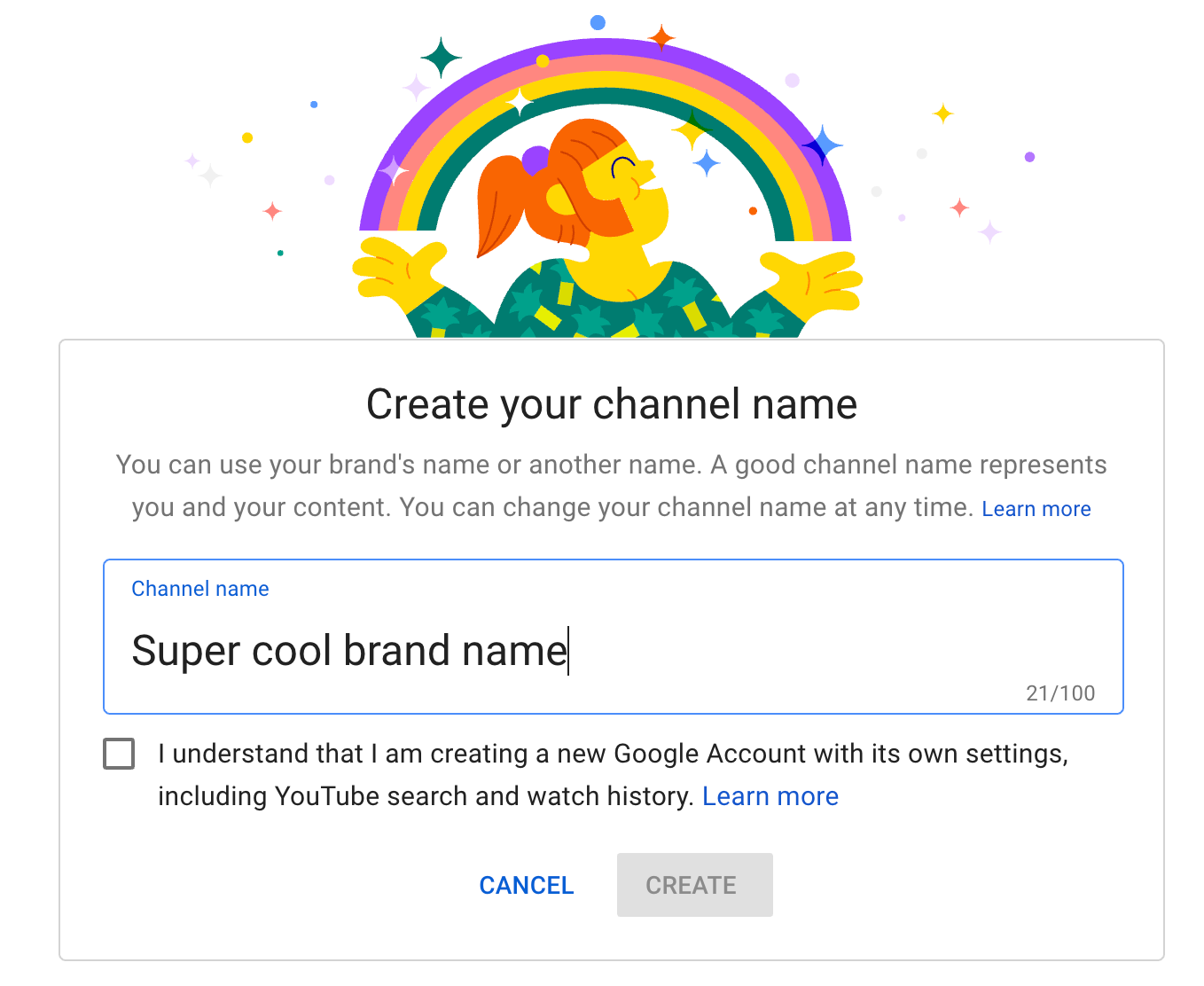 Note: As you'll see from the settings at this step, creating a new channel name will also create a new Google account with its own settings and YouTube history. This account nests within your main Google account and can be fully managed from the Google settings. It's quite useful as you can use this new account to like and comment on other YouTube videos and participate in YouTube as your brand.
After this step, you'll have the chance to further customize your channel. You'll see options for:
Uploading a profile picture
Adding a description of your channel
Adding links to your sites – this can include custom links to a website or blog as well as social links to Instagram or Twitter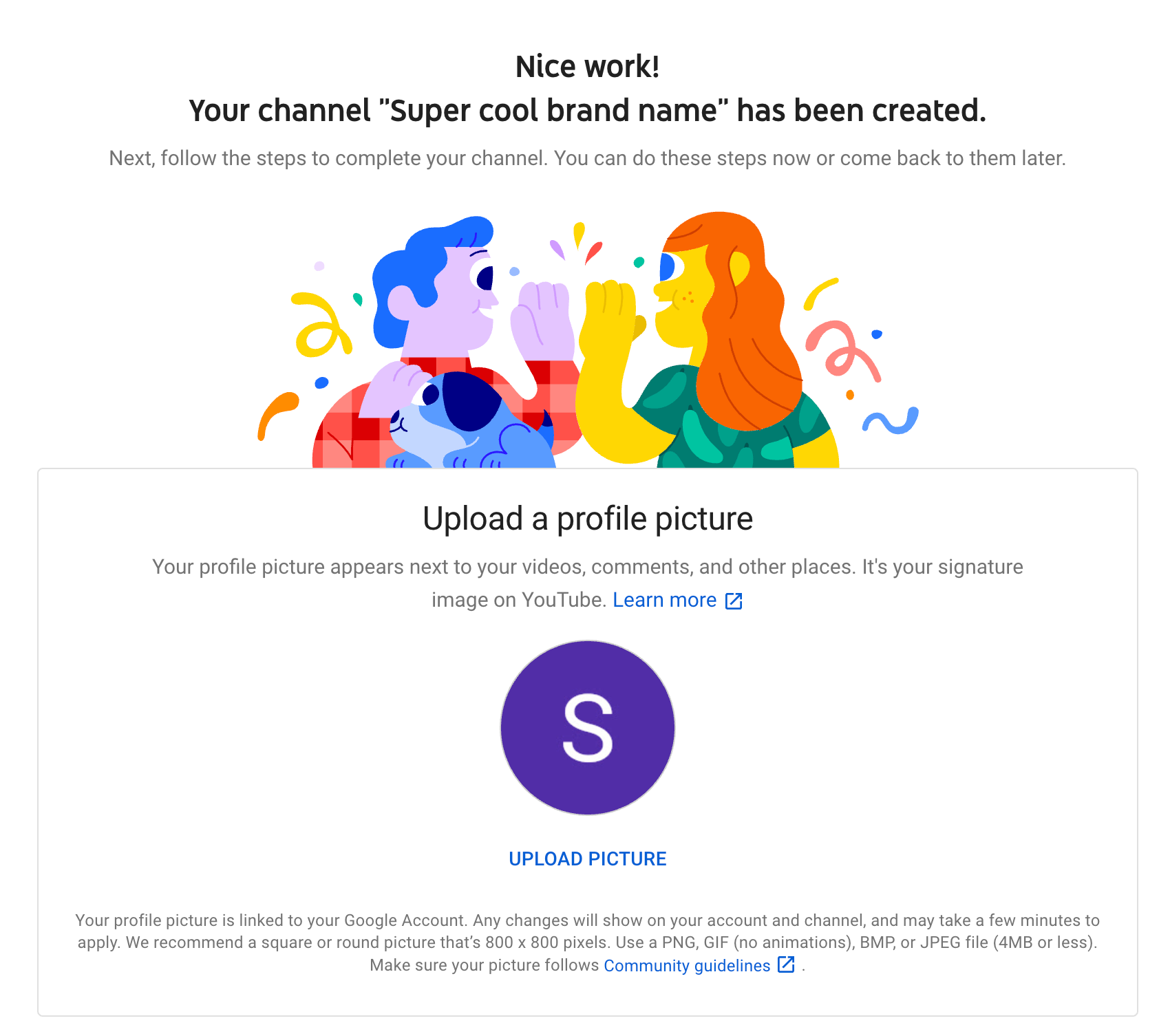 Congratulations! You've just created a new YouTube channel! 🎉
Next, let's fill out all the information and create some channel art to get your page looking awesome (click here to jump to the next section).
How to create a YouTube channel if you don't already have a Google account
If you don't already have a Google account set up, you'll need to create one before you get started on YouTube. To do this, simply follow the below steps:
Head to YouTube.com
Click 'Sign In'
Now, choose the option to create a Google account
Follow the steps to create your Google account
Now, you're all set up with a Google account and can follow the above steps to create a YouTube channel.
---
How to create YouTube channel art
YouTube channel art is essentially YouTube's version of the Facebook cover photo. Channel art features in a prominent place on your YouTube channel, which means it's absolutely vital for any YouTube channel to use customized art to share your personality or more about your brand with your audience.
Here's an example of Gary Vaynerchuk's YouTube channel art: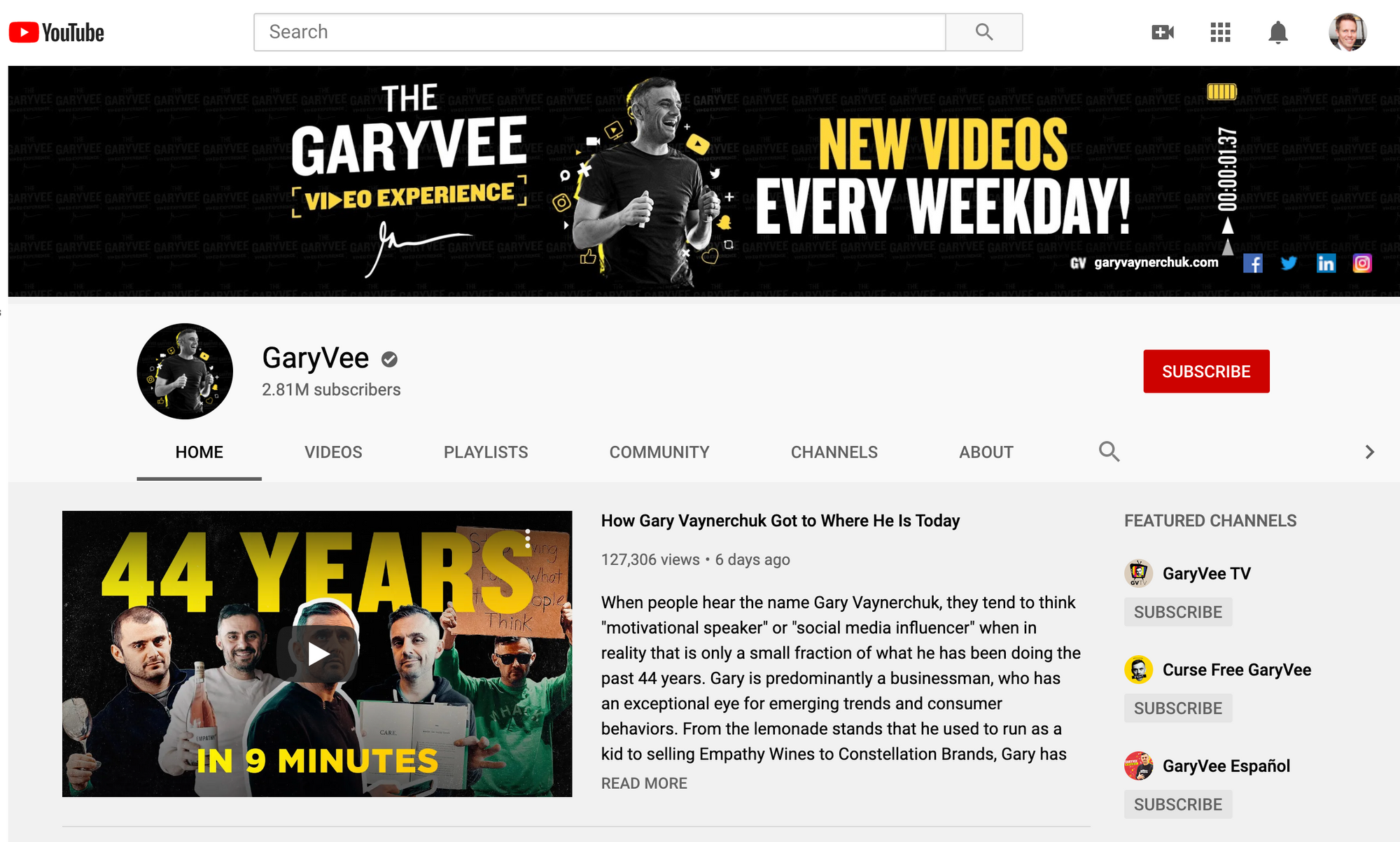 Gary is well-known for his public speaking at conferences and for sharing all he knows about marketing and building businesses with his audience. This is reflected in his cover photo, which displays Gary in mid-flow giving a presentation. The channel art also serves as a promotion tool for The Gary Vee Video Experience and reinforces the cadence of new videos on Mondays through Fridays.
Here are a couple other examples for inspiration: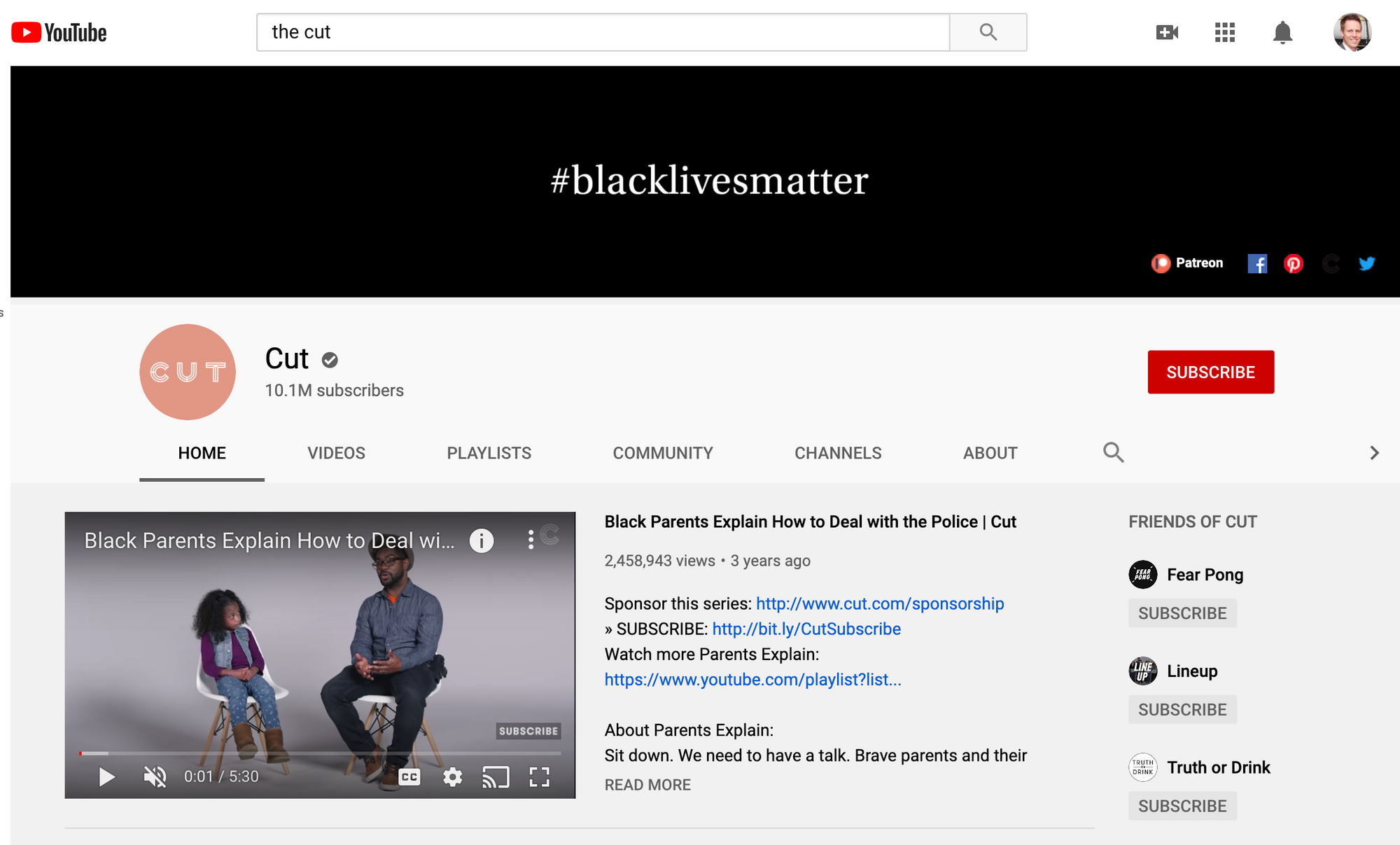 The Cut uses its channel art to advocate for Black Lives Matter.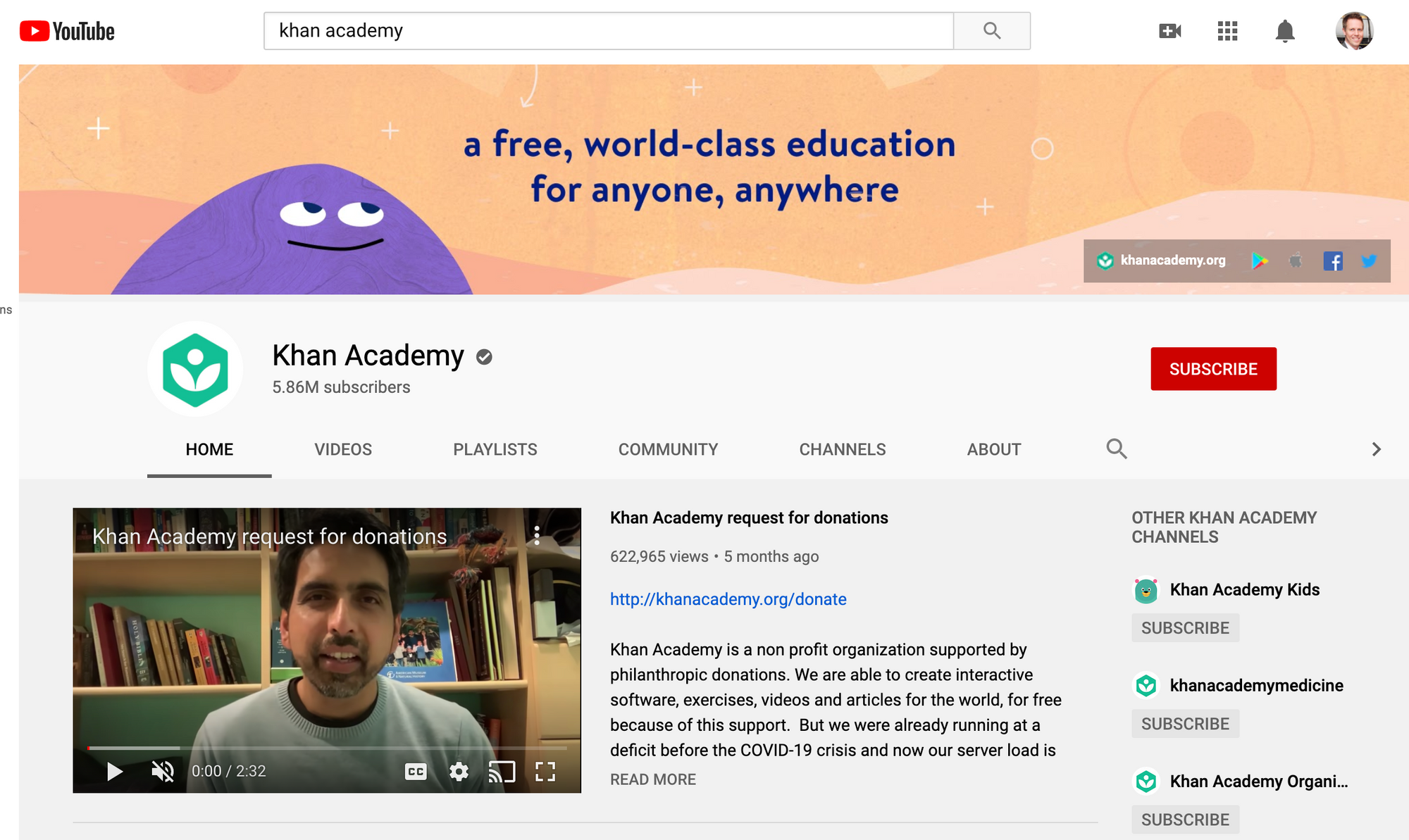 Khan Academy uses its channel art to reinforce its brand, mentioning its tagline and showing off some of the fun characters and brand design.
Ok, now that you have some options in mind for what your channel art could be, here is what you need to know to create your optimal YouTube channel art …
The perfect sizes for YouTube channel art
The best place to start with your channel art is with an optimal image size that works across multiple devices. For the best results, YouTube recommends uploading a single 2560 x 1440 pixel image.
Minimum width: 2048 X 1152 px. This is the "safe area", where text and logos are guaranteed not to be cut off when displayed on different devices.
Maximum width: 2560 X 423 px. This means that the "safe area" is always visible; the areas to each side of the channel art are visible depending on the viewer's browser size.
File size: 6MB or smaller recommended.
It's interesting to note that YouTube is available on a ton of different devices – from as small as an iPhone to as large as a 60-inch TV. On TVs, the channel art appears in the background, behind the content on your YouTube channel. On desktop and mobile devices, it appears as a banner across the top.
Tools and tips for creating YouTube channel art
In the past, YouTube has supplied a Channel Art Template to help you figure out the perfect layout for your channel art and how it'll look across platforms. Here's a preview of the template: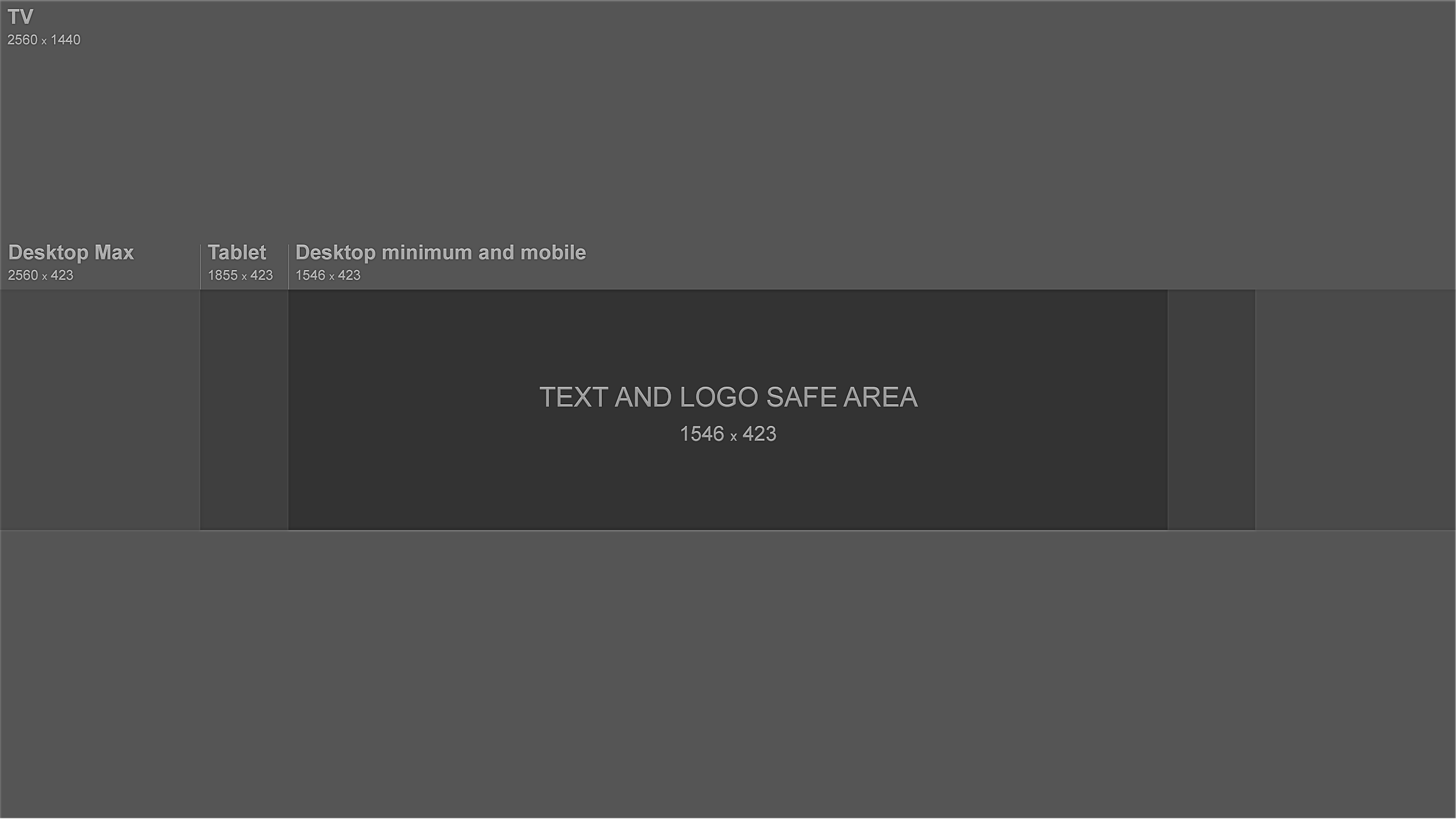 You can absolutely use the ideal dimensions that we mentioned above in order to create your channel art from scratch using a tool like Figma or Photoshop.
Nowadays, the easiest way to get up and running with your channel art is to hop into a free image creator like Canva or Adobe Spark. These tools have ready-to-go YouTube templates you can quickly customize to your liking.
Here is an example of a channel art template within Canva: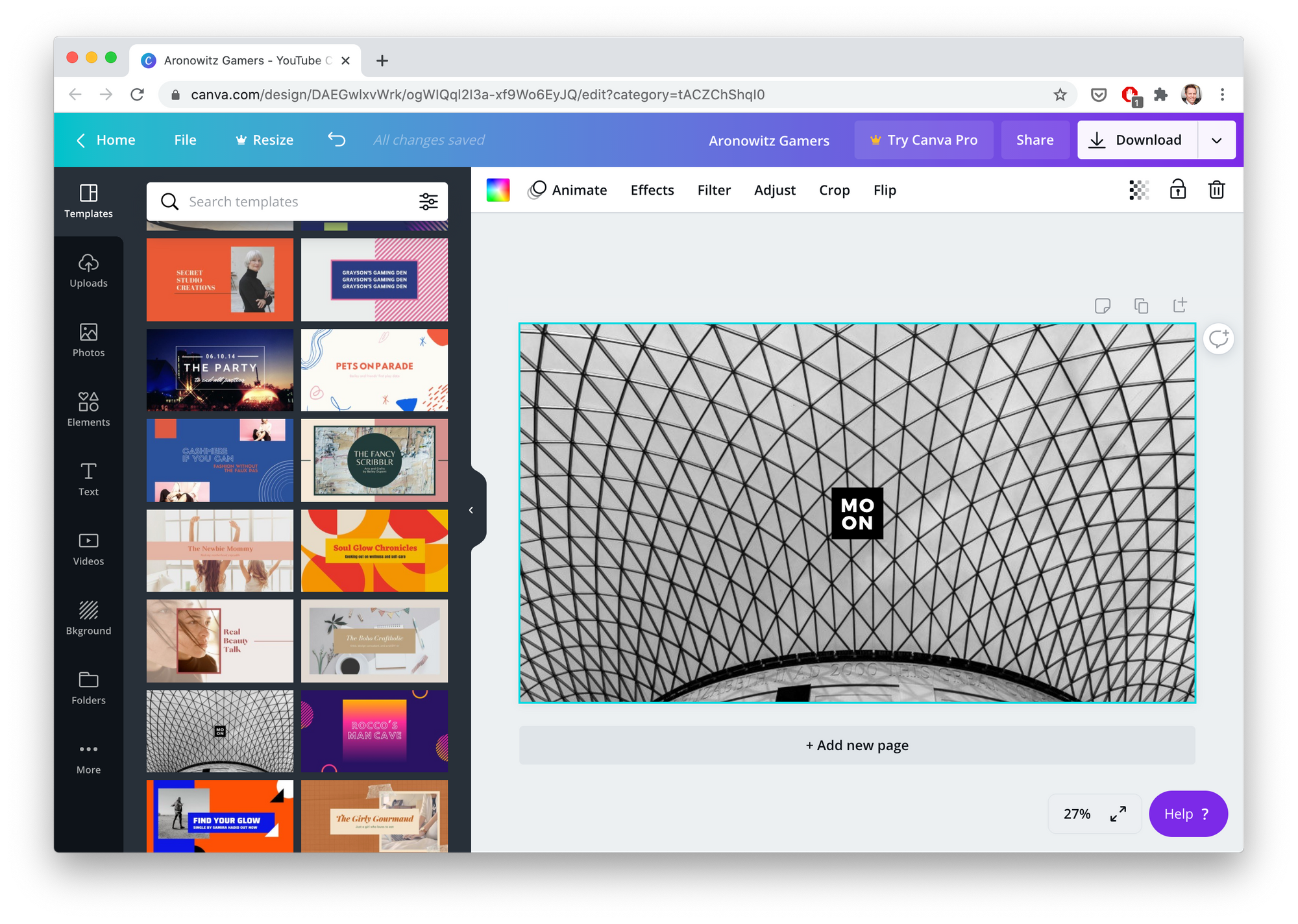 2 top tips for YouTube channel art
1. Ensure any text and logos are within the "safe" area
The text and logo safe area is the 1546 x 423-pixel space at the center of the YouTube channel art template (see the template above). This is the area that will be displayed on YouTube when your channel is viewed on desktop screens.
Traditionally, the parts outside the safe area run the risk of being covered or illegible because of overlaid social links or profile pictures.
Be careful to ensure any important information such as branding, text, taglines, and key images are within the safe space so that they're always displayed as part of your channel art across every device.
2. Consider your channel links
YouTube enables you to add links to your channel and these are displayed in the bottom right corner, overlaid on top of your channel art. For example, check the bottom right of the channel art below:

When creating your channel art, it's important to think about the space these links take up and ensure you don't have anything important (such as logos) occupying that space within your design.
---
How to add art to your YouTube channel
If you're just setting up your YouTube channel, you'll notice the channel art space (along with the rest of your channel). To add art to your YouTube channel as well as make any other customizations, click the Customize Channel button in the top right.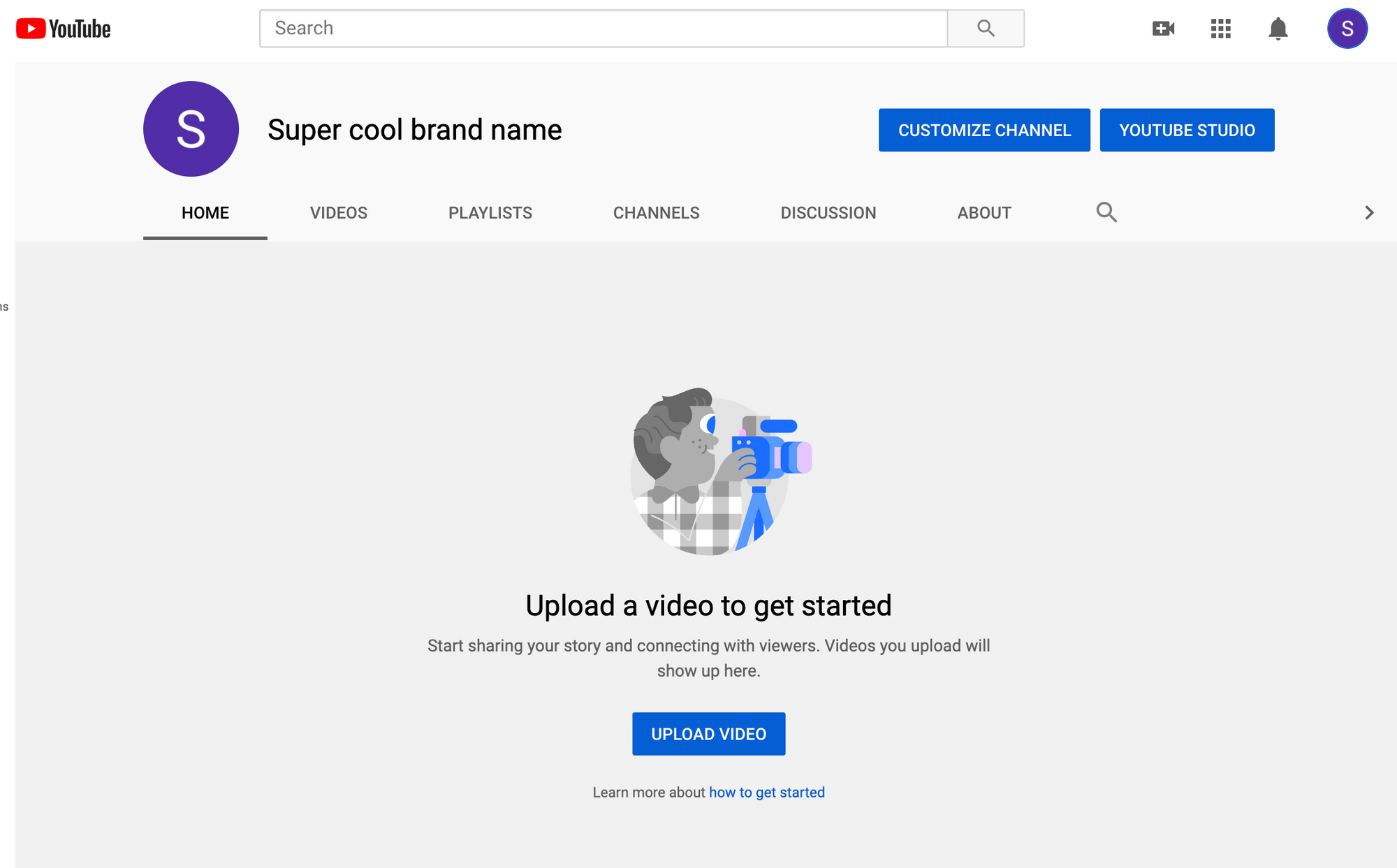 Once you've clicked this link, you'll go to another editor screen where you can click on the different parts of your profile in order to make changes.
BROUGHT TO YOU BY
Try our full stack of brand building tools
We've built a full stack of social media tools to help modern brands grow their awareness, engagement, and sales.
There should be a blue button in the center to "Add channel art."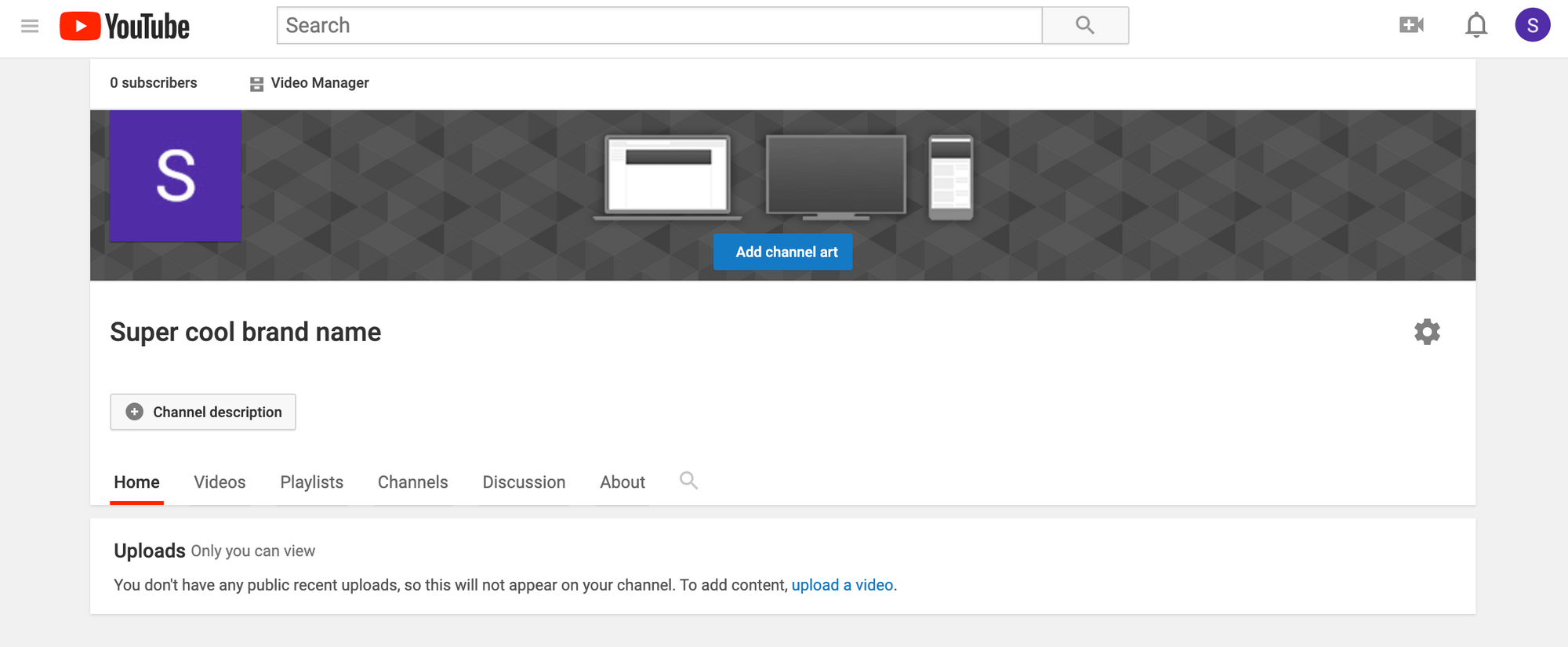 After this, you'll see a popup window that gives you the option to upload your own custom channel art. If you'd like to, you can also choose to use one of YouTube's templates from the "Gallery" or choose to upload one of your photos from Google.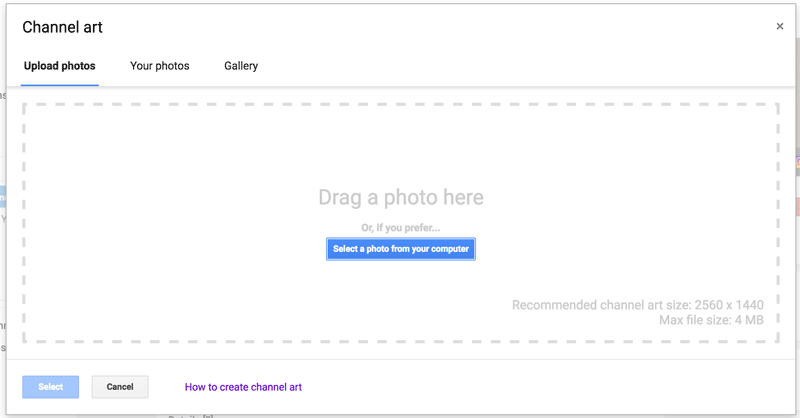 Adjusting the crop
Once you've uploaded your channel art, YouTube will show you a preview of how it looks on TV, desktop, and mobile.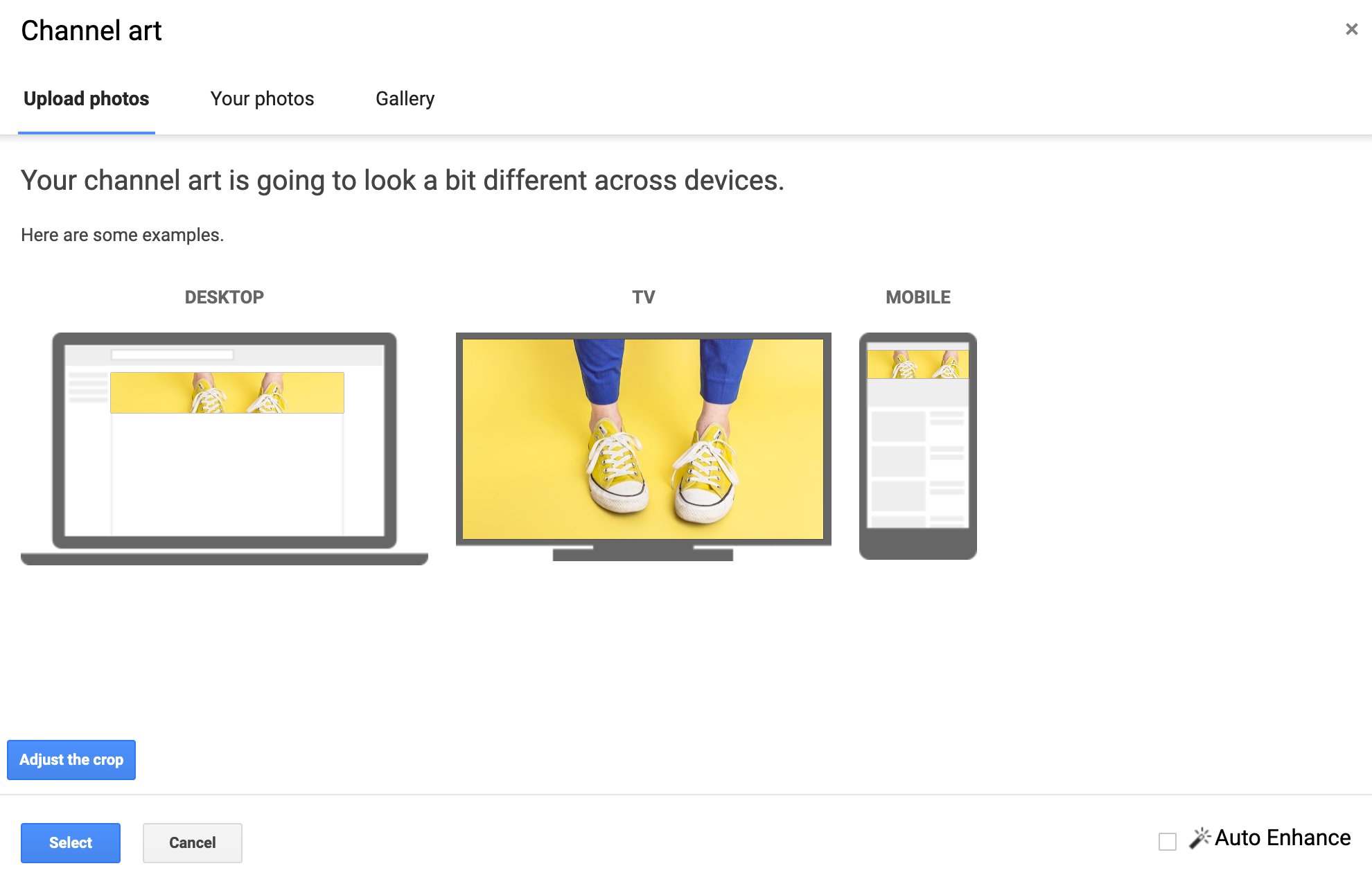 At this point, you may want to adjust the cropping of your image so that you can ensure it's all lined up correctly. The cropping tool can be accessed by clicking on "Adjust the crop."
This crop screen is very handy for checking how your design will look on various platforms. The clear section in the middle of the grid shows you the content that will be displayed on mobile and desktop and the rest of the image shows the image that will be displayed on TVs.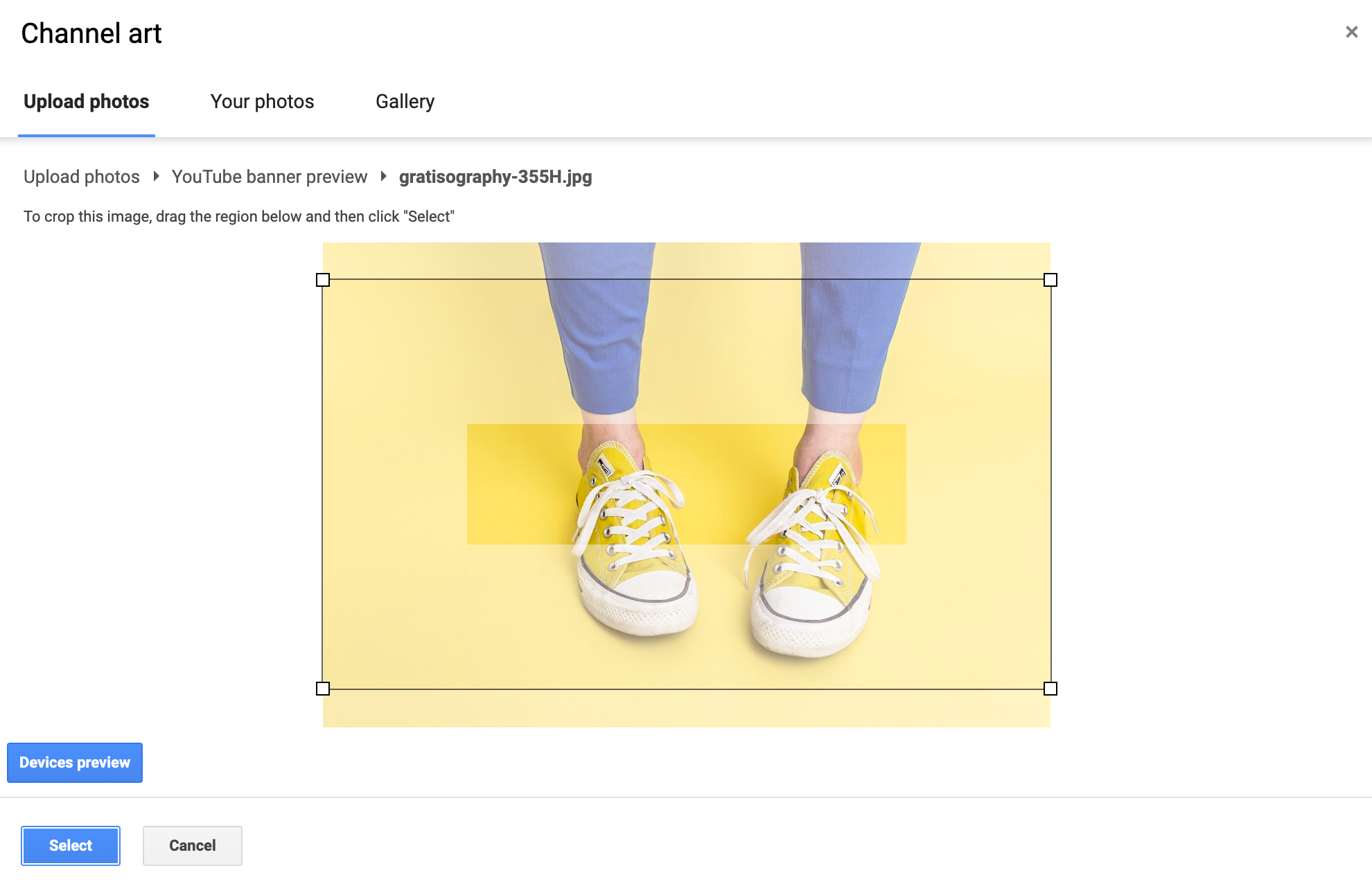 Once you're happy with the way your cover art looks, click "Select" and your channel art will be added to your channel and saved.
Changing your current channel art
If you already have some channel art in place and would like to update it, head over to your channel homepage. From here, move your mouse over your cover art and you'll notice a little edit button appear in the top right-hand corner:

Once you've clicked on this icon, you can update your channel art.
This video from YouTube also explains how to add and edit your channel art:
How to add your channel icon (profile picture)
Each channel also has space for a profile icon / picture. This is the icon that shows next to your videos and channel on all YouTube pages. The key here is to select something that will look good at very small resolutions –  many brands opt to use their logo here.
Your channel icon should be 800 x 800 pixels and one of the following formats: JPG, GIF, BMP or PNG file (no animated GIFs).
To update your channel icon, head to your channel homepage and hover over your current channel icon until you see the edit icon appear. Click on that icon and you'll be able to upload a new profile icon.
---
5 ways to enhance your channel
1. Optimize your description
YouTube gives you a space on your channel to write a little about your brand and the content you share on YouTube. The description is limited to 1,000 characters, so you have a little room to be creative here.
The copy in your channel description won't just appear on your channel page. It's indexed by search engines and can also be featured across YouTube in suggested channel categories and search results. A good tactic is to include some relevant keywords and CTAs within the opening lines of your description.
And be especially mindful of the first 100-150 characters. Depending on where the description appears, the remaining text could be truncated.
Here's an example of a great YouTube channel description from Vox: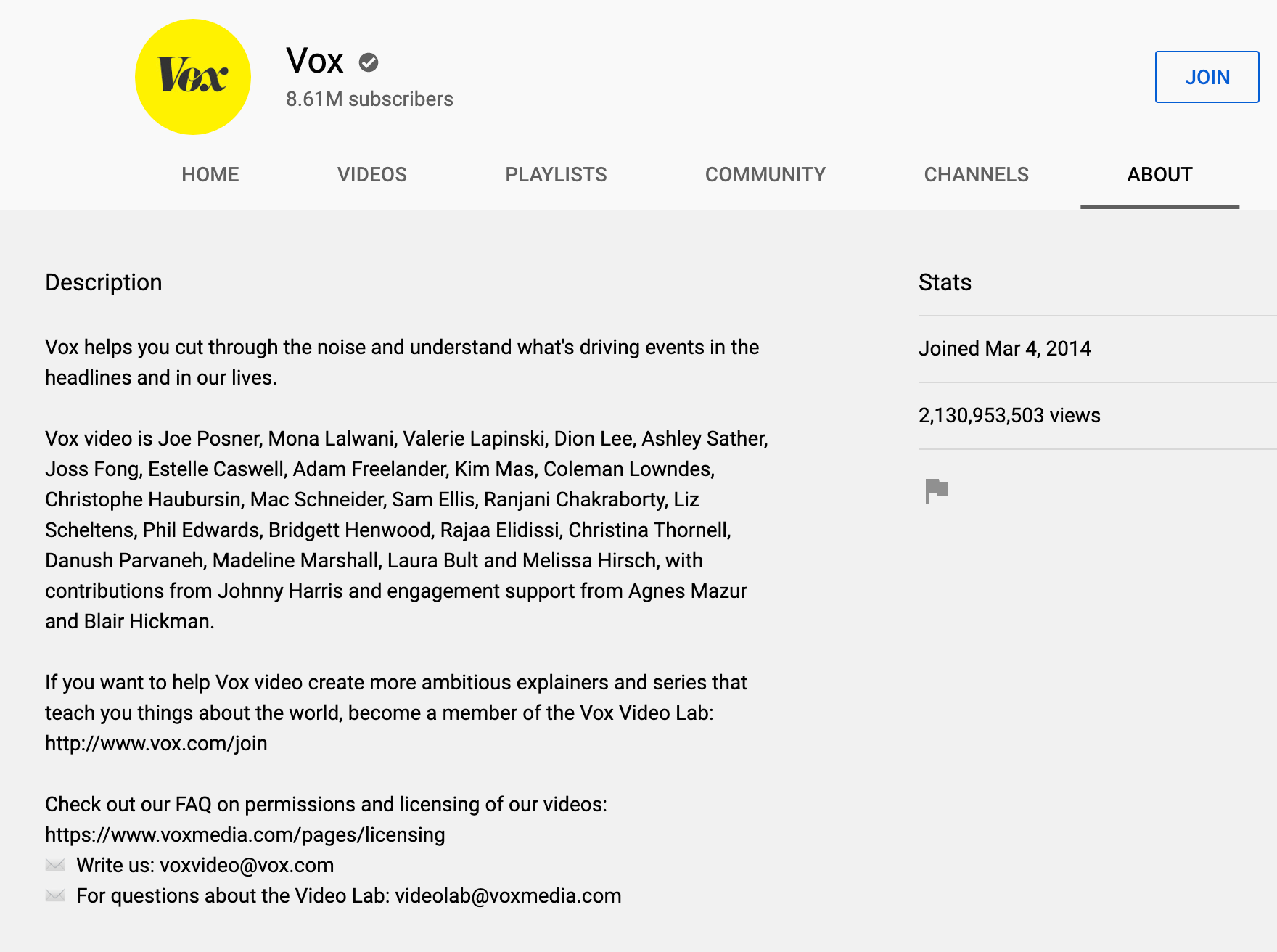 2. Add links to your channel
We briefly mentioned channel links earlier in this post. You can have up to five links appear in your channel's banner. The first link will appear expanded (see screenshot below), and the remaining links will show up as icons.

I'd love to share with you how to add these links in four super-quick steps:
1. Click the "Customize Channel" button on your channel's homepage.
2. Then click on the gear icon in the upper-right corner, just beneath your cover art.
3. You'll see a Channel Settings lightbox appear. Here you need to toggle on the option labeled "Customize the layout of your channel":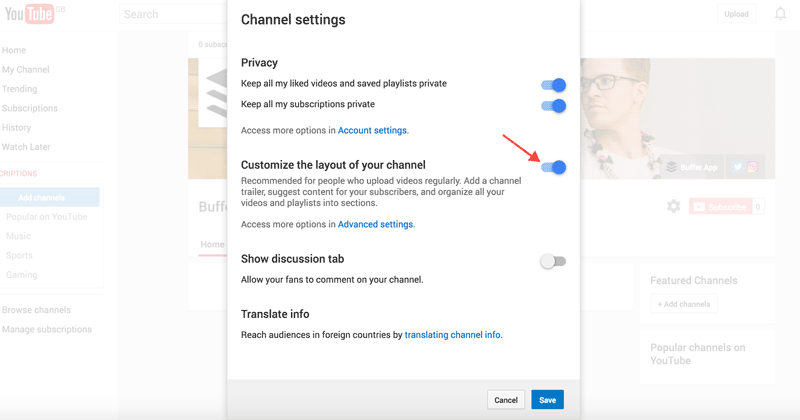 3. Now that you've enabled customizations on your channel, pop back to your channel homepage and you'll now see the option to "Edit Links" under the settings menu on your cover art.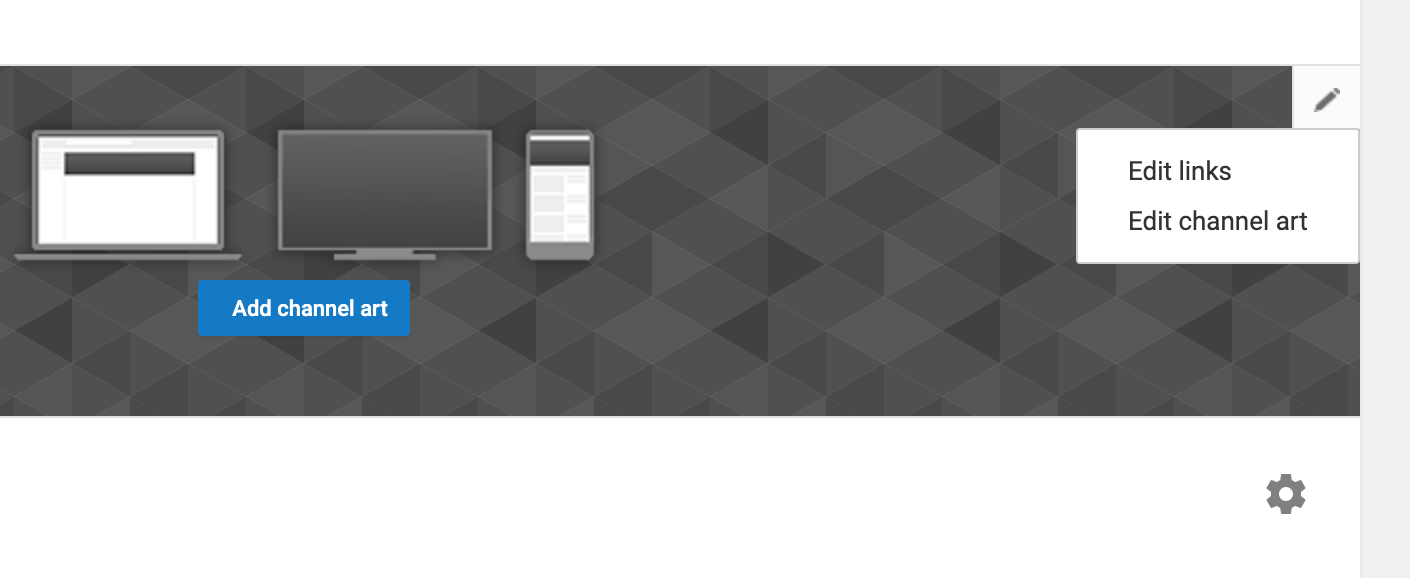 4. Click the "Edit Links" option and you'll then be taken to the "About" section of your channel. Here you'll have the option to add links and choose how many are displayed over your cover art: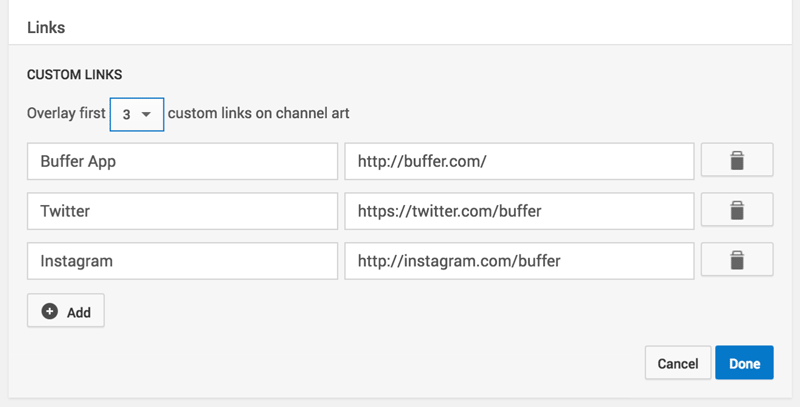 3. Add a channel trailer
As soon as visitors land on your channel, you want to give them a picture of the type of content your channel covers and why they'll want to subscribe and check out your videos. A channel trailer is a perfect way to do this.
A short, to-the-point channel trailer can be a great way to introduce people to your content. A channel trailer should grab attention as soon as it starts and also represents the type of content you create on YouTube.
It's also important to think about the description you add to this video as it features prominently on your channel homepage.
(These trailers only appear for people who are not yet subscribed to your channel.)
Here is a look at where this trailer appears on your channel homepage. Note how the video is at left and the title and description appear to the right? That's a lot of prime real estate!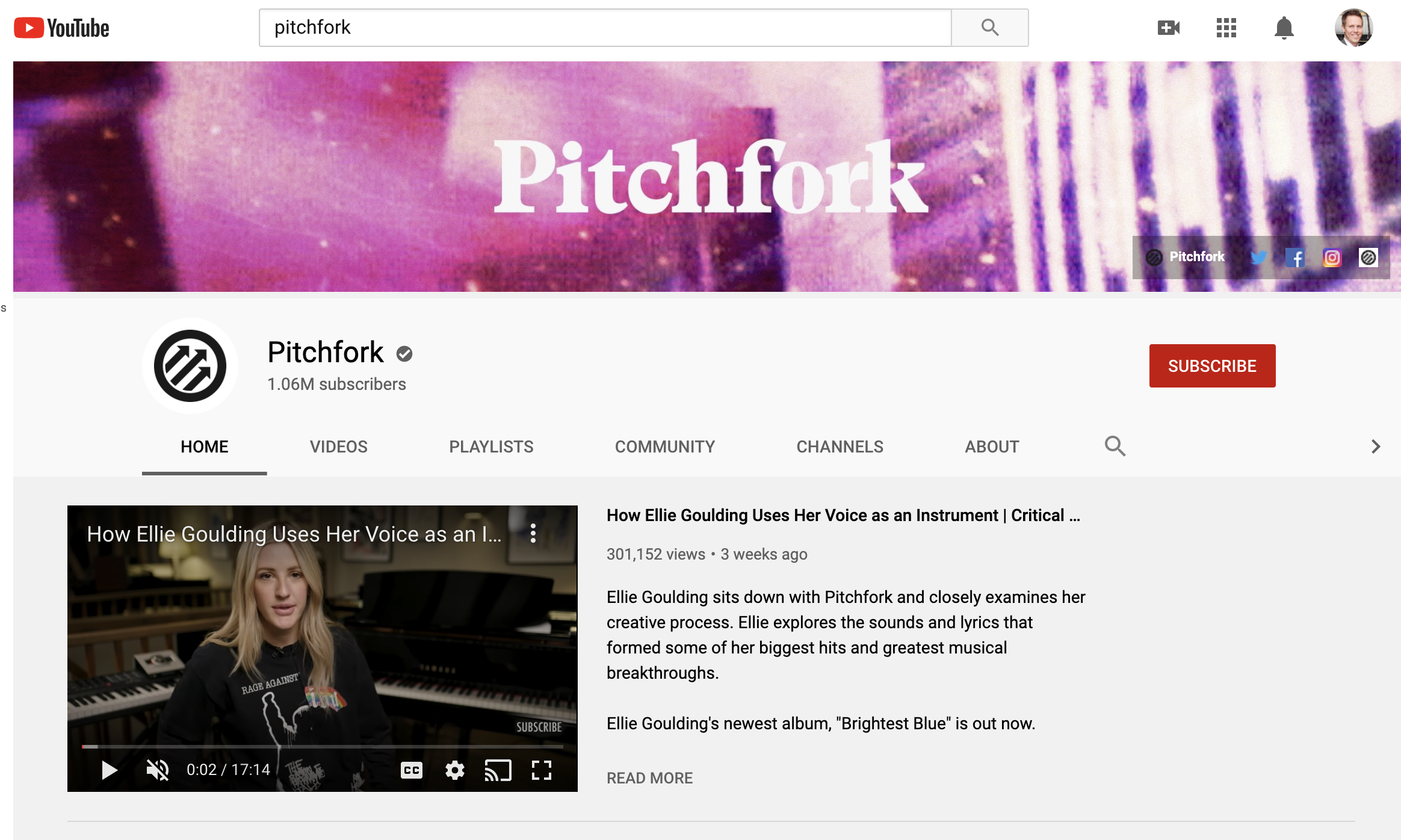 Here are a couple of great trailer examples that might inspire you:
Slow Mo Guys
SoulPancake
4. Add your contact details (email address)
If you're using YouTube as a business or a creator, it can be great to have your contact details on hand for anyone who is interested in your work. YouTube has a section on each channel profile for you to list your contact details for business inquiries.
This can be found under the "About" section of your channel. To find it, go to your channel homepage, click "About" from the navigation and then scroll down to "Details." Here you'll see the option to share your email address:

---
How to Grow A YouTube Channel From Scratch
If you want to maximize your outreach with online video content, YouTube is undeniably the place to be. More than a billion people use YouTube. That's one-third of the entire global population of internet users. The video-sharing platform continues to grow at an astounding pace; growth in watch time has jumped 50% year over year for the past three years.
But there is a downside too; more than 300 hours of video are uploaded to the site every minute. Think about that for a moment. Your video is just one tiny droplet in a deluge. You are not going to stand out from the crowd without a solid plan.
What can you do about it? The best approach is to grow a strong channel with a dedicated subscriber base. If you can do that, you can focus on producing engaging content that appeals directly to your followers. From there, you can expand until eventually, you reach the point where you have a shot at going viral.
Whether you are brand new to YouTube or you have been on the site for a while, we are here to help. In this guide, we will walk you through the steps to grow a YouTube channel from scratch.
Is Your Dream To Start A YouTube Channel?





1. Conduct market research to identify fans
You have to start out by first figuring out where your target audience is spending time on YouTube.
Here are some general statistics about the user base that may interest you:
The user base has a fairly even distribution of male and female users.
Men spend 44% more time on YT than women each month.
YouTube has numerous users in every age bracket, even the 65+ category. Still, the largest percentage is in the 25-34 age bracket.
What is also useful to know is that there is a gender breakdown by categories. Men dominate the following categories in terms of viewership:
Sports
Gaming
Bodybuilding
Computer animation and graphics
Women meanwhile dominate these categories:
Cosmetics
Skin and nail care
Some more evenly divided categories which appeal broadly to both men and women include:
Dogs
Pop music
East Asian music
Weight loss
This is one reason it is essential to choose the right categories for the videos you upload. Not only does this ensure that your videos rank higher for relevant search queries, but it also helps the right demographic to find them.
Whatever your product, it is important to come up with a marketing persona. This is simply a thumbnail of the typical buyer or audience member you are targeting.
Say for example that your product is Let's Play videos like those by PewDiePie, YouTube's top celebrity. You can actually use demographics from PewDiePie's channel to build a marketing persona for yours. According to this information, the average Let's Play viewer is:
Male (Though this is a swiftly growing category for female viewers as well. Interestingly enough, female viewers also spend slightly more time on each gaming video than male viewers do on average)
Ages 13-16 (But there is a wide distribution, see source link above)
Not a serious gamer (surprisingly, only 37% of a Google Consumer Survey group who watched Let's Play videos reported that they thought of themselves as "gamers").
So here is an example marketing persona:
Tyler is a 15-year-old boy who plays a couple of times a week on a PS4. Despite this, he isn't dedicated to the point of considering himself a "gamer." Sometimes he needs ideas for dealing with a particularly challenging in-game task and wants to know what other gamers have done. Most times he just enjoys the humor. His girlfriend, 14-year-old Linda, isn't an avid gamer either, but she's starting to take an interest. She plays now and again, and also watches a lot of Let's Play videos for their entertainment value. She's picked up on a number of Tyler's subscriptions.
Knowing why users enjoy your videos is very important. If you know that users are mostly tuning in for walkthroughs, you can focus on providing useful strategies. If you discover they are tuning in mostly for your sense of humor, you can focus more on just being funny.
Now that you have a more solid idea of who you are targeting, you are ready to fine-tune your marketing efforts.
One thing that is important to point out here is that you need to focus on fans who are actually active on YouTube. Cross-promoting is a good idea, but you cannot assume that the users you target on Facebook, Twitter, and other sites are active on YouTube as well. They may be members of the same target demographic, but that does not guarantee that they will help you to grow your YouTube channel.
2. Optimize your profile and channel branding
When you open your YouTube account, the first thing you are going to want to do is optimize your profile and channel branding.
Your channel is simply your homepage on YouTube. There are three main elements you need to set up:
Your channel art
Your icon
Your about section
So let's look at PewDiePie's channel as an example.


Across the top of the page, you can see a large banner. That is PewDiePie's channel art, which is currently a promotion for his Virtual Reality In Public video. It is smart to regularly change your channel art. This keeps your page looking fresh and it draws attention to your latest videos, products, or projects.
You will notice social media links in the lower right-hand portion of the channel art. In the upper left you can see PewDiePie's icon. Your icon represents you throughout YouTube. Choose something that displays well large or small.
Next, optimize your "About" section. Here you can input a description of your channel and provide contact information and links.
If you are cross-promoting on your own website, Facebook, Twitter, etc., be sure to use consistent branding. Use the same fonts, colors, designs, and logos. You want everyone to know instantly that they have arrived at the right place.
3. Organize your channel using sections
While you were checking out PewDiePie's channel, you probably also noticed he does an amazing job organizing his content using channel sections. With a section, you can group together related videos. This helps your audience to find content which will interest them.
PewDiePie for example has a featured video and then a list of recent uploads. Below those, you can find the following sections:
The Latest Hot Videos To Watch
Mirrors Edge Catalyst
All Finished Playthroughs
Scare PewDiePie
Weird Stuff Online
Fridays w/PewDiePie
PewDiePie Montages
PewDiePie Animated
HTC Vive

You can see how this makes it a breeze for users to find what they are looking for. If you want to watch a completed playthrough, click on the All Finished Playthroughs section. If you want to watch an episode of Scare PewDiePie, you can find them all right there in that channel section.
Contrast that with the mess you find on channels that don't have organized sections. Nothing is worse than having to skim through videos that appear in upload order without any further categorization. With only the names and thumbnails to go by, it can be next to impossible to find what you want. Oftentimes, users just give up in frustration.
So organize your channel! You can create up to 10 custom channel sections.
Note: If you have been on YouTube for a while, you may know sections by a different name: playlists. YouTube has recently changed its lingo. This may be a bit confusing at first, but they are exactly the same thing.
4. Comment and connect
As I discussed previously, your target market is on YouTube. But you need to target active users within that group. How do you do that? Where do you find them? The answer is to turn to videos that are similar to yours and draw the same audience.
To find active users, you need to hunt down videos that are getting plenty of real-time engagement. The best way to do this is to run a search for recently-uploaded videos in your niche. Look for those that are getting a lot of viewership and activity. These videos are being watched right now.
Comment and reply to other peoples' comments. Be polite and do not spam; actually participate in real conversation and say something meaningful.
If you do this, viewers in your target market who are actively watching the videos will see your comments. They may decide to follow your links and watch your videos next.
5. Collaborate with other YouTube users
Why does the strategy above works so well for growing your YouTube channel? You are in essence piggybacking on videos and channels that are already successful.
But that does not need to be an impersonal process. If you discover people who are successful in targeting the same audience you do, you may be able to collaborate with them. This gives you access to their audience. If they have already worked with other YouTubers, that is a good indication they may be receptive to your proposal.
There are numerous forms that YouTube collaborations can take. You can create a short comedic sketch together, or maybe a shared review. Another idea is to make a video entirely on your own and host it on your collaborator's channel. Your partner can then make a video to host on yours. You can also make videos where you react to each others' videos or products. Or you can work together to make an amazing how-to video. There literally is no limit to the great ideas you can come up with using a little creativity. Put your heads together and you will come up with even more awesome possibilities.
YouTube has an excellent guide on Collaboration here.
Another way that you can work with other YouTubers is to set up your Featured Channels section. Add channels here that you want to promote.
Here are PewDiePie's Featured Channels:


This is a great place to promote your friends and collaborators. For example, PewDiePie is promoting his girlfriend's channel here, CutiePieMarzia.
This is a great opportunity to promote your competitors too. That might sound weird, but the idea is to build up an association between your channel and those in your niche who are already successful. That way you pick up on some of their authority (and hopefully their followers).
Be sure that you always tell other YouTubers when you add them to your Featured Channels. You will not get a response every time, but sometimes you will find that this leads to further collaboration and cross-promotion. They may also decide to add your channel to their Featured Channels. At that point, you have a great working relationship which can really grow your audience.
Just how much growth can you get from collaborating with other YouTubers? There is a great case study on Zoe Sugg, a.k.a. Zoella. In 2014, she grew her subscriber-base from one million to five million users. During this time, she created an average of one collaboration video every month. Each was featured on another user's channel and included a call to action to subscribe to her channel. Every single video led to a spike in new subscribers.
6. Ask for subscribers
This is the simplest tactic in the world, and yet numerous YouTubers forget to employ it. If you want people to subscribe to your channel, you need to ask them to do it!
Internet users are notorious for their short attention spans as well as their tendency to simply move along. They may have enjoyed your videos, but they will probably just click out of their browser and forget about you unless you remind them to follow you. What a waste that would be.
This is why you should add annotations to your videos. With annotations, you can layer all kinds of useful information over your content. This can include links, text, and hotspots.
You can invite users to subscribe at any point during your videos, but you should always remember to do it at the end. Personally ask for subscriptions, and then layer on the link to subscribe. Users click the annotation and effortlessly are able to follow you.
7. Buy plays, likes, and subscribers
If you follow all of the suggestions above with diligence, you should gradually start seeing results. But it can take a long time to grow a channel organically from scratch. The problem is that users who click through to your channel look at your statistics and see that you don't have many subscribers. Because of this, they may not see you as particularly relevant. As a result, they then click away and watch something else.
When your channel has a lot of plays, likes and subscribers, you have something known as Social Proof, which means that people see your numbers and perceive that you are already popular. This produces a bandwagon effect, where they want to jump on board and see what you have to offer.
Your established competitors are already way ahead of you in terms of likes and subscribers. It's not a level playing field. Buying likes and subscribers is one way to catch up fast.
If you decide to buy subscribers, make sure that you go with a service that drip-feeds new followers from aged accounts. That way the growth looks organic, even though it isn't. Otherwise, buying subscribers could easily backfire on you. So long as you choose a quality provider, you should see excellent results.
Need help finding a quality provider? Read our list of the top 10 places where you can buy YouTube views.
Conclusion
YouTube is a realm of abundant opportunity. With over a billion users, pretty much every target market imaginable has a presence on the massive video-sharing platform. Targeting active users can be a challenge though. It is also difficult to generate visibility on a site that is constantly flooded with fresh content.
That is why you need to have a solid growth plan for your channel. To review, here are the steps:
1. Conduct market research to identify your fans. Understand your fans' lifestyles and habits, and in particular, why they watch your videos. Make sure you know what categories to upload your videos to in order to reach the right demographic.
2. Optimize your profile and channel branding.
3. Organize your channel using helpful sections. This makes it fast and easy for users to find videos that interest them.
4. Comment on recently uploaded videos which are similar to yours and getting a lot of attention from active users.
5. Collaborate with other YouTube users and make use of Featured Channels.
6. Ask for subscribers. Embed calls to action in your videos using annotations.
7. Buy plays, likes, and subscribers.
YouTube success will not happen overnight. It can take many months of sustained effort to reach a level of visibility where you have a shot at going viral. Building a strong channel however gives you a core audience of dedicated subscribers. These devoted fans will tide you over and will help you spread the word. Who knows—eventually you could become the next PewDiePie!
Over to you
Thanks for reading. It's been great fun to dive into how to create a YouTube channel and I hope you picked up one or two tips from this post. If you create a YouTube channel of your own or already have one up and running, I'd love to hear from you and learn from your experience in the comments below.
Do you have any tips to optimize your YouTube channel??

YES I'M NEED SOMEONE TO GUIDE ME TO MAKE REAL BUSINESS VIA YOUTUBE CLICK HERE


THIS ONLY ONE TOOL MADE FOR YOUTUBE CHANNEL MOST NEED THIS