HostGator might be one of the biggest, oldest web hosting companies in the industry, but they're still making improvements, posting an average uptime of 99.98% over the past 24 months.
Their basic shared hosting plans come with unlimited storage, bandwidth, free domain (for the first year), and a free SSL certificate. They also have great customer service, who connected through a live chat instantly and answered each question within a few seconds.


Unfortunately, HostGator's average page loading times let them down (1191ms average). Many extra services, like backups and security, will be tacked on as additional fees. Plus, the renewal rates rise aggressively after your first term expires.
Here's a complete look at our hands-on test, using third-party data from Pingdom to shed light on their performance.
General Info & Hosting Overview
---
| | |
| --- | --- |
| OUR VERDICT: | Well Known Provider with Good Performance |
| SPEED: | 1,191ms (February 2018 to January 2020 average) |
| UPTIME: | 99.98% (February 2018 to January 2020 average) |
| SUPPORT: | 24/7 Live Chat |
| APPS: | Over 75 apps supported |
| FEATURES: | Unmetered bandwidth and storage,  single email account, free domain 1st year |
| HOSTING PLANS: | Shared, Cloud, WordPress, VPS, and Dedicated Servers |
| SITE TRANSFER: | Single Free Site Transfer |
| PRICING: | Starting at $2.75/mo (renews at $6.95/mo) |
---
Pros of Using HostGator Shared
HostGator's uptime performance used to be an issue in years past. But not anymore, based on our 24 months' worth of tracking.
On top of that, their customer service was fast and friendly. They'll help move your site over to their service for free. And beginners will like a lot of the simple, intuitive options directed their way.
Here's a quick summary:
1. Strong and Stable Uptime of 99.98%
HostGator has posted a 99.98% uptime over the last 24 months. They've been consistent with 99.98-100% uptime for several months.
That's not even the best part, though. They're consistent for a reason: their uptime guarantee says that if they drop below 99.90%, you can receive one month of credit on your account.
Obviously, any planned maintenance or impossible-to-predict hacks aren't factored into this guarantee. You will, however, have to reach out and ask for the credit by submitting a support ticket to their billing department within 30 days.
We've started to see a few other hosts pop up with uptime guarantees recently, and it means all customers win as a result. Competitors coming out and doing this helps raise the bar for the entire industry. It forces everyone else in the market to either match their guarantee and raise the standard level of service or risk falling behind.
Last 12-month average uptime:
January 2020 average uptime: 99.97%
December 2019 average uptime: 99.89%
November 2019 average uptime: 100%
October 2019 average uptime: 100%
September 2019 average uptime: 100%
August 2019 average uptime: 99.99%
July 2019 average uptime: 100%
June 2019 average uptime: 99.99%
May 2019 average uptime: 99.95%
April 2019 average uptime: 99.98%
March 2019 average uptime: 99.99%
February 2019 average uptime: 100%

2. Good Support
HostGator provides a knowledge base, phone, email, and live chat support. The last option is the fastest, connecting us to a service rep within about 15 seconds.
We tried peppering them with questions, jumping around from topic to topic, and they never hesitated once. Their staff seems knowledgeable, well-trained, and friendly. It was a good experience all-around.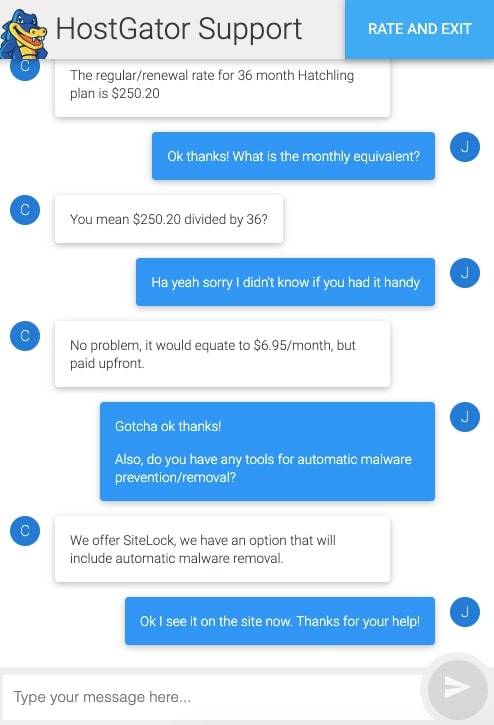 3. 45-Day Money-Back Guarantee
HostGator is so confident in their service that they extend the industry-average 30-day refund policy an extra two weeks or so to 45 days.
That means you can use them for over a full month and still get your purchase price back if any issues pop up.
This 45-day money-back guarantee applies to all shared, reseller, and VPS hosting packages.
The only catch is that this does not apply to HostGator's dedicated servers, administrative fees, install fees for custom software. After combing through 30+ Terms of Service documents by now, we've found that these caveats are fairly common in the hosting industry.
So, for example, if your plan included a free domain name, they'll deduct the standard fee of $15.00 for the domain from the refund amount.
There are a few other points to make. HostGator's Terms give them up to 90 days to actually issue a refund. No refunds will be given on checks, money orders, Western Union payments, or bank wire transfers, either.
Refunds are only available for new plans or accounts. So if you previously signed up for one, and are canceling a renewal or second attempt, you won't get anything in return.
And last but not least, foreign currency refunds are processed based on the U.S. Dollar exchange rates.
4. Site Security Features Available
HostGator's shared hosting plans are fairly bare-bones. You're getting enough for one site, but not a whole lot of extras on top of it.
Fortunately, they do offer a few extra security features like the ability to add SiteLock monitoring to your site. This service will run daily, looking out for any potential site breaches or hacks and let you know instantly when they find it.
They also offer Spam Assassin on their email plans to help prevent spam from hitting your inbox in the first place.
The only downside is that SiteLock will cost you a little extra. We'll expand on this below in the Cons, but the sticker price is $1.67/mo, billed annually at $19.99.
5. Free Site & cPanel Migrations
If this isn't your first site, and you're trying to move an existing one over, HostGator's got your back.
You'll have 30 days after sign-up to get in touch and have them help move any site files, databases, scripts, and even a domain name over for you.
This includes a full cPanel transfer. So if you happened to have multiple site installs (like subdomains for one large site), you're covered.
All of HostGator's shared hosting plans come with a single site (or cPanel) migration included. Different plans, like resellers, for instance, will get access to more (up to 30).
A single free site migration isn't a lot compared to some hosts. But it's still better than others, like Bluehost, which will charge $150 for moving up to five sites at a time.
6. Very User-Friendly for Beginners
HostGator is tailor-made for beginner bloggers or webmasters.
Their site is full of tutorials, walkthroughs, and more to help you navigate the murky world of DNS and data centers.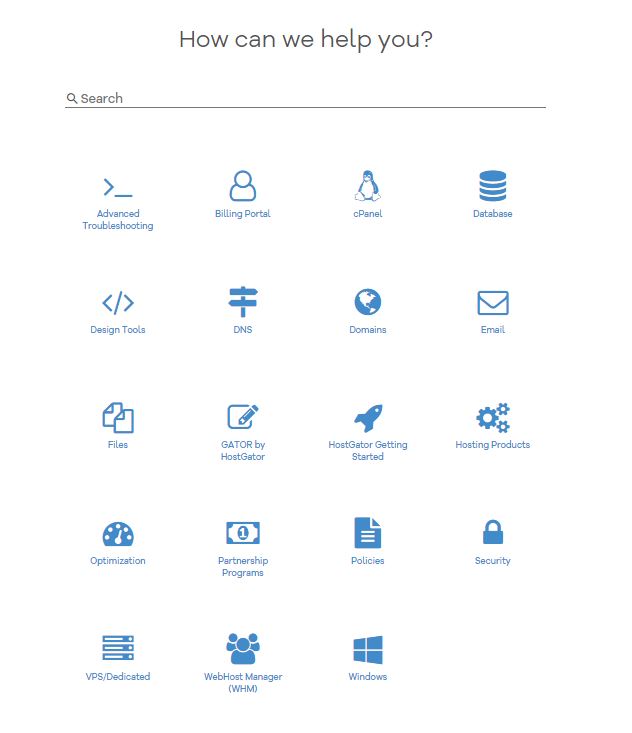 They also have extra features for beginners who are looking to set up a site without the hassle of hiring other people to design, build, and manage everything.
Their website builder, Gator by HostGator, is one of the better ones we've reviewed. It comes with free hosting and a domain name, so you just need to purchase a single account for all of the necessities.
The customizable templates are all pretty modern, to begin with, and you can easily customize how they look by dragging and dropping each feature. You'll also get site analytics and a free SSL certificate to help safeguard your visitors' personal data (like their physical location).
Gator by HostGator even comes with an eCommerce plan, so you can set up a fully-functioning online store with inventory and more, all without worrying about payment gateways, plugins, or any other messy technology. It just works.
Cons of Using HostGator Shared
HostGator's consistently strong uptime was, frankly, surprising (in a good way). We're also fans of their uptime guarantee.
Beyond that, their beginner-friendly approach and helpful customer service mean that there's a lot to like about their service.
Unfortunately, we also ran into a few issues along the way while testing them out. Here are the biggest problems we found:
1. Slow Page Speed (Over 1 Second to Load)
HostGator's servers had no issues keeping our site up and live for the last year and a half.
The problem is that these same servers were consistently slow, too. Their average page loading time over the last 24 months has only been a 1191ms average.
That's over a second to load relatively simple, text-based content pages. So just imagine what would happen if you fill these pages up with thousands of words and dozens of high-resolution images. Yeah, not good.
Slow page loading times have been shown to impact your visitor's experience directly. And that has a trickle-down effect to hitting your bottom line, too.
There are a few things you can do to speed up your site without switching hosts. But if your host is consistently slow, it means you'll constantly be fighting a losing battle.
Last 12-month average load times: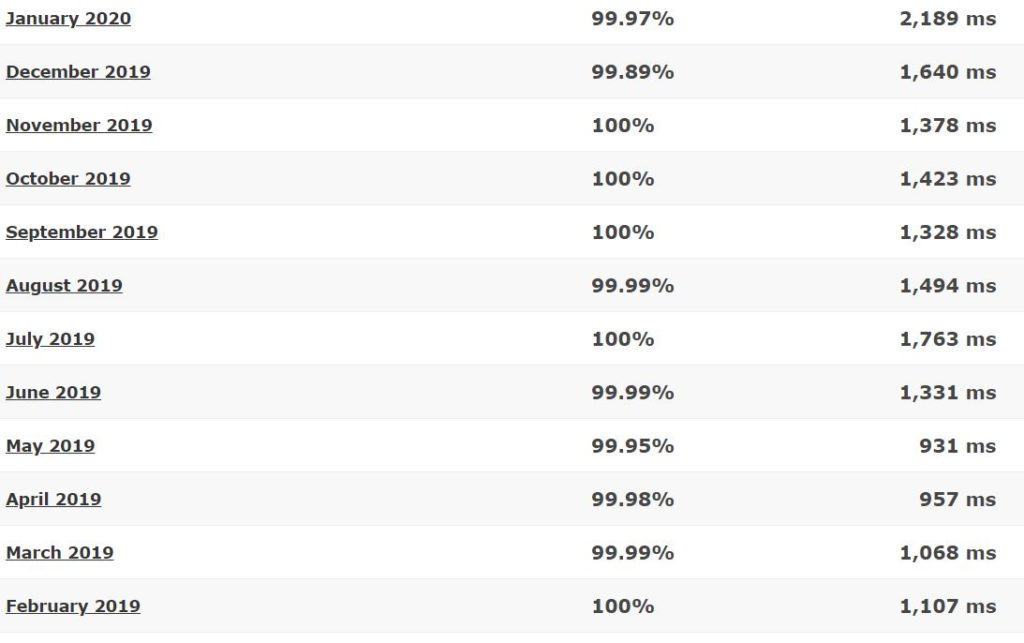 2. Lots of Extra Fees for 'True' Backups, Gmail, and Malware
HostGator's shared hosting plans are cheap, with introductory pricing starting at only $2.75/month (for 36 months).
Their cheapest plan ("Hatchling") comes with a single domain name, one-click installations of popular apps like WordPress, Joomla, and more, unmetered bandwidth, unlimited storage, and a free SSL certificate. Basically, all of the core features you need for a complete website.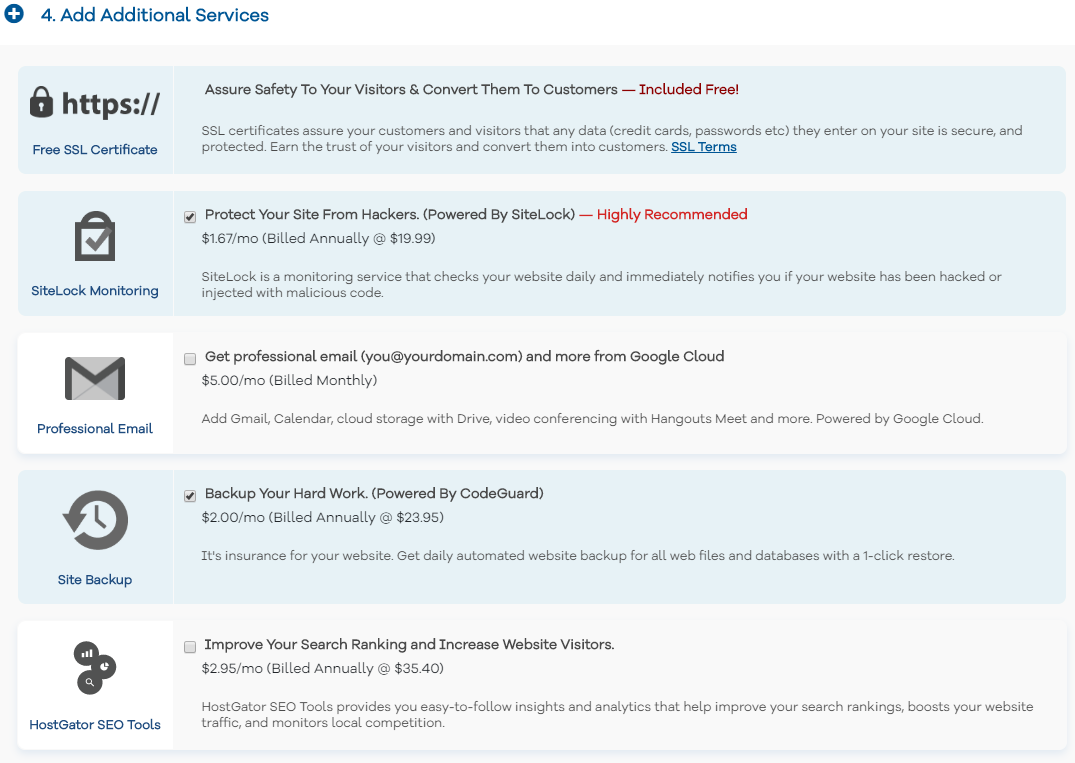 However, that's about all they provide in their default plans. All of the 'extra' stuff, like site backups, Gmail access, SiteLock Monitoring, and SEO tools will all cost you extra when it's time to checkout.
It's disappointing because many of these features are worded carefully on the site, like "available," to make you think they're included. Browse the other top hosts we've reviewed and you'll see that many of them, in fact, do throw these into their basic pricing.
It's only when you get to the very end of the process, when you go to enter your billing information, that you'll realize all of these extra features will cost you, well, extra.
Gmail is the standard $5/month or $60/year per user, which is their normal pricing. But then SiteLock will cost you $19.99/year, CodeGuard (to backup your sites) will cost you $23.95/year, and they don't even keep many previous versions of your site on file in case you run into any problems.
So while the initial plan seems inexpensive at first, it starts to become pretty pricey when all is said and done.
3. Industry-Standard Pricing 'Tricks'
In addition to extra fees, HostGator pulls two pricing tricks that are pretty standard in the industry.
The first is advertising a low rate like $2.75/month, only for you to realize that it requires you to prepay for a full three years to actually get it. Otherwise, you're looking at $10.95/month for an actual single month's worth of service.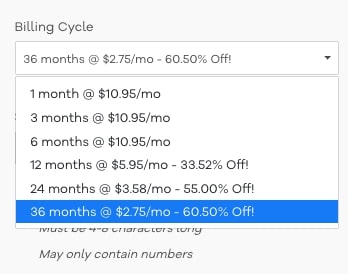 That's just the beginning, though. Because on top of this, HostGator's renewal pricing jumps dramatically after your initial plan expires.
So let's say you go ahead and lock in that low rate for three years. You'll be getting a pretty good deal, no doubt.
The trouble starts when it's time to renew your plan in three years. At that point, your monthly rate for the same plan jumps to $6.95/month (or $250.20 total) — more than double what you just paid for the same exact service.
Essentially, they're preying on the fact that after a few years, the likelihood of you wanting to switch services is pretty low. So you're locked in for a while (like a cable company or gym membership).
Lots of other hosts we've reviewed pull this same stunt. However, that doesn't mean we have to like it.
HostGator Pricing, Hosting Plans & Quick Facts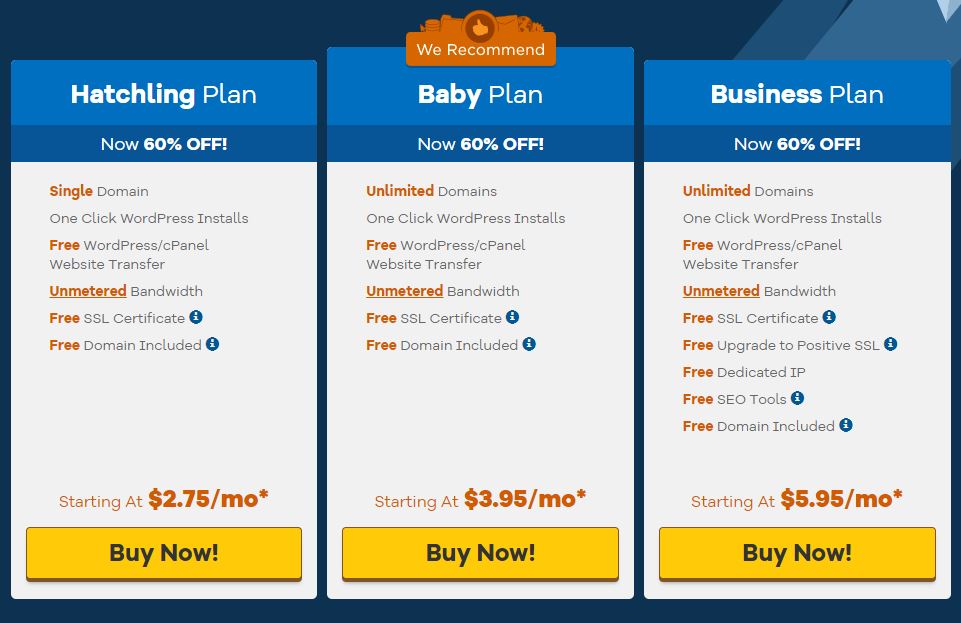 Shared Hosting: HostGator has three shared hosting plan option to choose from:
Hatchling plan: This plan starts at $2.75 per month. You get one domain name, unlimited disk space and storage, an SSL certificate, and unlimited subdomains.
Baby plan: This plan starts at $3.95 per month. It supports unlimited storage, bandwidth, and domain names.
Business plan: This plan starts at $5.95 per month. It supports unlimited storage, bandwidth, and domain names. It comes with a free dedicated IP, SSL, and a toll-free number.
Ease of Signup: Easy signup process.
Payment Methods: Credit Card, PayPal.
Hidden Fees and Clauses: Introductory pricing is only available for long-term plan purchases. Renewal rates will also more than double. Extra services, like backups and malware monitoring, are all extra fees, too.
Upsells: Lots of upsells.
Account Activation: It can take up to 24 – 48 hours to activate your account.
Control Panel and Dashboard Experience: cPanel.
Installation of Apps and CMSs (WordPress, Joomla, etc.): They make it easy to install popular apps and CMSs in a few steps using QuickInstall.
Do We Recommend HostGator Shared?
Not really.
But not for the reason you're probably thinking.
HostGator's shared hosting does offer a lot of benefits. The uptime has really improved over the past year or so. The customer service was good. And the plethora of beginner-friendly options make it user-friendly.
However, a combination of the slow speeds and extra pricing hikes make it too expensive to be considered a decent value.
The reason we wouldn't recommend it, though, is because they have a better option in the store that does actually deliver a good value.
HostGator's WordPress Cloud hosting is a little more expensive initially on paper, but the performance is also substantially better.
So we'd recommend taking a look at that one, first, because you'll probably end up paying the same at the end of the day when you throw in these extra fees and price increases.
Yes, HostGator is reliable. They had an infamous outage in 2013 during their transition to Endurance International's infrastructure. But since then, they've been stable with no more outages than would be expected in the web hosting space (even Amazon and Google have.
outages – the key is communication with customers).
Is HostGator good for WordPress?
Yes, HostGator is generally good for WordPress, depending on your goals & exact needs. HostGator provisions plenty of resources for a typical WordPress install and offers QuickInstall tools. However, their auto-install does add some removable but annoying plugins. Their managed WordPress hosting plans are not quite as competitive compared to specialists like WP Engine or direct competitors like InMotion
Is HostGator easy to use?
Yes, HostGator is generally easy to use. They are not as beginner-focused as their sister brand, Bluehost, but they do have a redesigned account management panel and a solid onboarding sequence in addition to a brand new website builder for those who don't want the learning curve of a self-hosted website.
Which is better GoDaddy or HostGator?
HostGator is better than GoDaddy if you want better long-term pricing, better performance, and more DIY support options. GoDaddy is better than HostGator if you want to keep things simple with one web services company, if you want deeper discounted pricing, and if you prefer phone support options. Read more about HostGator vs. GoDaddy.
HostGator is a web hosting service with WordPress hosting, VPS hosting, and dedicated hosting capabilities.
What are HostGator's, top competitors?
Google Domains, Namecheap, and Cloudways are common alternatives for HostGator.
What is HostGator's best feature?
Reviewers rate Support Rating highest, with a score of 7.6.
The most common users of HostGator are Small Businesses from the Information Technology & Services industry.
Is HostGator A good hosting company?
HostGator might be one of the biggest, oldest web hosting companies in the industry, but they're still posting a solid average uptime of 99.93% over the past 12 months. … Their basic shared hosting plans come with unlimited storage, bandwidth, free domain (for the first year), and a free SSL certificate.
Is HostGator WordPress hosting worth it?
To summarize, we found HostGator to be a reliable and customer-friendly hosting service. Their 24/7 customer support is among the best. That's why we've added HostGator as one of the best WordPress hosting companies. Let's jump to the more detail-oriented parts of our HostGator review.
You can't really go wrong with this hosting provider, but we'll let you in on the good and the bad so that you can make the most informed choice. HostGator scores 4.7/5 stars in our research, which earns it a very close second place just behind Bluehost – so you'll definitely be in good hands.
Who is better than HostGator?
Overall though, Bluehost came up the winner over HostGator, with stronger features and better value for money. Both are extremely strong though, hosting millions of websites across the globe, so you'll be in good hands whichever one you choose.
Which is better HostGator or Bluehost?
Bluehost is slightly better than HostGator when it comes to security. They both offer free SSL certificates, malware tools, and complimentary website backups, but HostGator's are more limited. It's another tie between Bluehost and HostGator when it comes to customer service and support.
HostGator Cloud Best Features
Speed HostGator's cloud hosting scored an A+ on Bitcatcha's speed test. It was particularly fast in the US region. (More on this at the bottom.) Reliability and uptimeHostGator scored a 100% uptime rating.
Is WordPress free in HostGator?
WordPress is Free and Open Source
This can help to keep costs low as you're building your first website. The only thing that you need to pay for is a domain name and hosting.
HostGator's Cloud hosting is one of the fastest and most reliable web hosting services we've had the pleasure of using (check out our review here), so it's saying a lot when we say that the shared web hosting's site load speed is almost comparable to their cloud hosting!
Which is the best hosting for WordPress?
These are the top 10+ best WordPress hosting services in 2021.
SiteGround (www.SiteGround.com) Best overall WordPress host ($6.99/mo) …
Flywheel (getflywheel.com) Great entry-level managed WordPress host ($13/mo) …
Bluehost (www.Bluehost.com) …
Hostinger (www.Hostinger.com) …
Kinsta (www.Kinsta.com) …
WP Engine (www.WPEngine.com)
Is Bluehost better than WordPress?
The results showed that the first site had an average load time of 603 milliseconds and a second of 1.06 seconds. While impressive, these results do show that the most basic hosting plan offered by Bluehost is faster than the mid-tier WordPress.com plan.
Should I get web hosting or WordPress hosting?
Web hosting vs WordPress hosting compared. The core difference between WordPress hosting and standard web hosting is the server configuration. WordPress hosting plans typically offer resources that are optimized for the platform. For instance, your web host might advertise features such as PHP 7 or increased PHP memory …
Why Namecheap is better than GoDaddy?
It's easier to manage your domain names with Namecheap, too. Free backups and SSL certificates make it better value than GoDaddy. GoDaddy's plans may offer more storage, but it's way more than most users will ever need, so you're better off with Namecheap for its service and support.
Can I use Wix with HostGator?
This content only applies to those using Gator Website Builder. You can transfer a domain registered with WIX to your HostGator account by following the steps listed below. This article will outline how to get a transfer key, also called an EPP code or authorization code, that you'd need to transfer.
Does HostGator provide staging?
Note: While the staging function will allow you to test out your changes, there is no way to push the changes to your live site automatically. This process is called site cloning, which is a service HostGator is not offering at this time.
Does HostGator sell your information?
You can look up your domain record and see what information is public. Not to say Hostgator did not sell or share anything but it is most likely the domain information that has your contact info being public.
Out of all the major web hosts, only Hostgator hasn't switched to SSD drives for basic hosting. All the other biggies – including- SiteGround and Bluehost – made the switch to SSD a while back.
Endurance International Group
What is the best hosting company?
The Top 10 Best Web Hosting Providers
HostGator – Best for Lean/Minimal Needs.
A2 Hosting – Fast & Reliable Shared Hosting.
GreenGeeks – Best Eco-Friendly Hosting.
WP Engine – Best Managed WordPress Hosting.
InMotion – Best VPS Hosting.
SiteGround – Best Customer Service.
Nexcess – Best for scaling and growth.
What is better than Bluehost?
Starting at $14.99, SiteGround is a better solution than Bluehost (starts at $8.99). SiteGround's support is more responsive, their performance (speed & uptime) is superior, and has an advanced set of features (e.g. staging area and speed optimization options). … Bluehost offers more storage and lower prices.
Which is better Bluehost or GoDaddy?
Overall Bluehost ranks higher than GoDaddy in our research. Although both are feature-rich with excellent performance, Bluehost offers slightly better support and value for money. GoDaddy's reach into domain registration and website building makes it a better all-in-one option.
Can you pay for Bluehost monthly?
Unfortunately, Bluehost doesn't offer monthly payment options for its cheap shared hosting or managed WordPress hosting. However, you can choose month-to-month billing with Bluehost's VPS or dedicated hosting plans. … We'll also break down the cost of each plan and compare monthly and yearly pricing.
Why HostGator Cloud Hosting? … HostGator has everything you need in one place – domains, hosting, website builder tools, and more. All of our plans come with unlimited email addresses, bandwidth, and storage.
Why should I use HostGator?
HostGator hosts over 8 million domains and is one of the most popular web hosts in the industry. With 1-click WordPress installation, a 99.9% uptime guarantee, and 24/7 support, it's a smart choice for every website owner. We rate them a perfect 5 out of 5 stars, and they're #1 on our list for best business hosting.
Which cloud hosting service is best?
Best Cloud Hosting Services for 2021
HostGator– Best cheap cloud web hosting.
Nexcess – Best cloud hosting for eCommerce sites.
DreamHost– Best cloud hosting for developers.
Hostinger – Most bang for your buck.
A2 Hosting – Fastest cloud web hosting.
InMotion – Best cloud hosting for small businesses.
Do you have to pay for hosting with WordPress?
WordPress as a software is free for you to download and use. However, to use WordPress on the web, you will need WordPress Hosting. You can use WordPress.com to create a free blog, but be aware that there are some differences. … Additional costs could be commercial WordPress themes also known as premium WordPress themes.
Does HostGator use WordPress org or WordPress com?
This platform is hosted for you and works more like a website builder (e.g. HostGator's website builder, Squarespace, Wix, etc). … First and foremost, since WordPress.com is hosting your website on their platform, you'll have the wordpress.com URL attached to your domain name.
Can I install WordPress on HostGator?
At HostGator, you can install WordPress through a simple one-click process when you purchase your hosting package. … Note: Our optimized WordPress hosting package comes with WordPress 7.2 or higher already installed.
While most Hostgator plans will use Cloudflare, Hostgator does have a global CDN that customers can use. … Only those who sign up for the Hostgator WordPress plan.
Why is my Hostgator website slow?
If yes, your HostGator server is slow. This may be because you're running resource-hungry plugins like WooCommerce or Elementor since shared hosting often doesn't have enough server resources to accommodate high CPU plugins.
Does Hostgator use CloudFlare?
"Cloudflare is completely integrated with HostGator's control panel, which makes it one-click simple for their customers."
Which host does Neil Patel use?
Conclusion
DreamHost – Best option if you want quick and responsive website changes.
Hostinger – Low-Cost shared hosting options for startups.
Bluehost – Best for WordPress hosting.
Nexcess – Best eCommerce hosting.
HostGator – A most affordable option for startups.
WP Engine – Best for managed WordPress hosting.
How can I host my website for free?
Best Free Hosting Sites
WordPress.com. WordPress.com is a popular free hosting platform that offers a unique flavor of WordPress. …
Wix. Wix is another fully-hosted website builder that offers free website hosting. …
Weebly. …
GoDaddy Website Builder. …
Squarespace. …
Google Cloud Hosting. …
Amazon Web Services (AWS)
Do I have to pay for Bluehost and WordPress?
Does Bluehost come with WordPress? Actually, WordPress comes with Bluehost. Free, easy WordPress installation is included in our Bluehost account. But you need that Bluehost account in order to get your site live, because WordPress on its own is just software without a web host!
Summary. Bluehost makes it easy and quick to get a website up and running, has an easy-to-use cPanel interface that's ideal for beginners, features a wide array of great features, is generally fast, has reliable servers, and has some pleasantly surprising security features for a budget-friendly web host.
Is cloud hosting good for WordPress?
Cloud hosting has the edge when it comes to performance.
While WordPress hosting allows you to choose resource limits that give your site breathing space, with cloud hosting, you never have to worry. Do you pay for the resources you use – need more than one month? Not a problem.
Is WordPress hosting faster than shared hosting?
You want the fastest page load times possible – all things equal, your site will load faster on managed WordPress hosting than it will on shared hosting. So if speed is paramount to you, you'll want to skip shared hosting.
Who is the cheapest domain registrar?
7 Best Domain Registrars: Who's the Cheapest and Should You Use Them?
Domain.com.
Bluehost.
Namecheap.
Hover.
GoDaddy.
SiteGround.
OVH.
Which is better SiteGround or HostGator?
SiteGround is better than HostGator winning 8 of our tests compared to HostGator's 6. SiteGround's speed is 1.5x faster than what HostGator has to offer. HostGator is slightly cheaper with better renewal rates and are equally good for beginners and WordPress like SiteGround.
Is Wix better than HostGator?
Comparing Wix vs Hostgator vs GoDaddy website builder it's clear that Wix has the highest overall score of 9.10, while Hostgator was evaluated with 8.40 overall rate. Third place goes to GoDaddy, it managed to receive an overall score of 8.20.
Does HostGator have a website builder?
The HostGator Website Builder can be used for free with all shared hosting plans and very simple to use. The whole process can be done in just minutes, and there's nothing to download or upload. Once you've set up your site, you can publish your changes directly to your website. Pros: Quick & easy.
How can I use WordPress without going to live?
The best approach is to:
Take a backup of your site. There are few good free plugins out there like All-in-One WP Migration and Duplicator.
Install the site on your local computer. …
Make all the changes you want on the local host.
Once done, take a backup again but this time of localhost and push it to the live server.
How can I test a WordPress theme without going live?
How to test a WordPress theme for your current website without going live
Step 1: Back it up (Just like Prince Royce and J-Lo recommend) …
Step 2: Choose your WordPress theme testing option. …
Step 3: Install your new theme into WordPress. …
Step 4: Browse theme options and preview them live.
Can you set up WordPress without a domain?
Instead of having your site on your own domain, you'll create a free site on a subdomain. So people will have to type in something like "yourname.wordpress.com" to access your site. With this, you don't have to worry about a domain or hosting. Just sign up and start building your site with a selection of free themes.
Can I change a theme on WordPress?
To do that, go to Appearance » Themes from the left sidebar of the WordPress admin panel. On this page, you need to hover the mouse cursor over the theme you want to use and then click on the Activate button to change the WordPress theme.
How do I update my theme on WordPress?
Just navigate to Dashboard >> Appearance >> Themes, pick the current theme, then simply click the button "Update Now" to attempt the upgrade. That's done, as easy as it sounds. In addition, when you automatically update a WordPress theme, any previous customization in the theme itself will be lost.
Why is Hostinger so cheap?
In fact, Hostinger is one of the cheapest web hosts on the market, and they include the registration of 1 domain for free. Yes, you have to pay for others, but they're still affordable prices. … By clicking this link, you get 82% off of the retail price and can host your website for only $0.99 per month.
Which Web hosting is best for beginners in 2021?
In brief: the best web hosting services in 2021
Bluehost – the best web hosting for beginners. If you're a beginner, Bluehost is the best web hosting service to get you started. …
Hostinger – the best cheap web hosting – up to 80% off. …
Hostgator – the best-shared web hosting provider.
Is sitelock worth the money?
No, Sitelock security is not worth the money you are paying. It costs you $2.99 a month. In return, they only give one automatic scan a day. You can scan the website manually as many times as you want.
Can I pay HostGator monthly?
So can you pay monthly with Hostgator? Hostgator does, in fact, let you pay monthly. This can be a great way to pay if you are limited on cash or not sure if you want to invest a full amount of money towards a full year when it comes to hosting.
Notes: *: Basic HostGator Website Builder is included free with Linux Shared and Cloud Sites plans. **: Starting price per month includes a discount for extended billing cycles paid in advance with the maximum discount at 36 months. 
Who is better than HostGator?
Overall though, Bluehost came up the winner over HostGator, with stronger features and better value for money. Both are extremely strong though, hosting millions of websites across the globe, so you'll be in good hands whichever one you choose.
Is HostGator safe to use?
HostGator has a custom firewall to protect you from hacker attacks (e.g. DDoS). But they don't disclose too much about what they do, I guess they don't want to give it away. They provide SSL certificates for free and SSH access. If you want extra security, an external paid app (SiteLock), can be added.
Is WordPress free on HostGator?
WordPress is Free and Open Source
This can help to keep costs low as you're building your first website. The only thing that you need to pay for is a domain name and hosting.
How do I install WordPress on Hostgator 2021?
Step 1 – Install WordPress
Log into your Customer Portal.
On the Dashboard, you will see the Welcome, (Your Name) section on top.
Click the Create Website button.
A new page will appear where you can install WordPress on your primary domain in one click!
Click Get Started to initiate installation.